6 Ways to Get Rid of Pimples Fast
Considering that pimples are the most common skin complaint in the United States, we shouldn't be surprised that they seem to pop up at the most inconvenient times: the day before that important job…
Do you know how important essential fatty acids (EFAs) are for your skin? Although not naturally produced by our bodies, EFAs are found in every part of our skin structure from our collagen fibers to…
The Ohio State Alumni Dermatologist of Phoenix
After earning his medical degree at the University of Arizona, our Medical Director, Dathan Hamann, MD, FAAD, headed to the midwest to complete his residency at The Ohio State University. Although…
Contact Dermatitis Institute and SmartPractice Allergen Bank
When allergy patch testing is needed, Saguaro Dermatology in Central Phoenix, AZ is proud to partner with Contact Dermatitis Institute (CDI), world-renowned leaders in patch testing. Allergy Patch…
Sun-related skin damage can manifest as sunburn, (which can be a first- or second-degree burn) or itchy rash from sunlight. Chronic sun damage and sunburns also increase your risk for skin cancer…
Have you ever been sunburned while hiking Camelback mountain or the Grand Canyon? While enjoying Arizona's great outdoors, remember to stay hydrated and practice good sun protection…
Saguaro Dermatology Reviews
Itaro Elaisa

"I totally recommend this place to anyone who's looking for a dermatologist who's professional, informative, respectful and very helpful. They are quick to solve your problems and get you home. "
Kristin Ulrich-Uhles

"Dr Dathan and the team were very helpful, kind and knowledgeable. Plus, there was no wait time so I was able to get back to work faster than expected. I would highly recommend."

Sally Shepstead

"Very friendly and professional. I had a great experience, Dr. Hamann was very good at answering my questions and concerns. I will certainly come back for another visit."

Kylin Chen

"The office was recently renovated--it is a beautiful, clean, and calm environment. I would highly recommend this practice for anyone who is looking for a general dermatologist."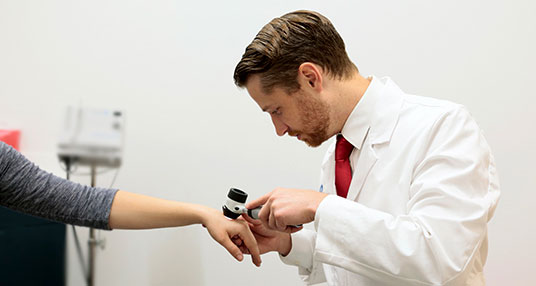 About Saguaro Dermatology
Our comprehensive dermatology clinic is dedicated to providing you with the highest quality of care, innovative practices, helpful resources and state-of-the-art technology to prevent and treat a multitude of skin disorders. Led by Medical Director, Dathan Hamann, MD, FAAD, our passionate team looks forward to serving you with respect and compassion.