As we age unwanted lines and wrinkles become visible on our faces, specifically across the forehead area, around the eyes, and between the eyebrows. Over time, these creases can become more pronounced, leaving many unsatisfied with their appearance.
The good news is that there are ways to slow and sometimes even reverse the inevitable signs of aging. One of the most popular and proven ways to achieve smoother, younger-looking skin is through Botox injections, which aim to soften fine lines and wrinkles.
The staff at Saguaro Dermatology are dedicated to providing you with the highest quality of care, innovative practices, helpful resources, and state-of-the-art technology to prevent and treat a multitude of skin disorders for patients in the Phoenix and Mesa area. Our physicians are experienced in Botox treatment and are ready to help you achieve the look you desire.
Botox is the most common brand name for Botulinum toxin type A. Botulinum toxin injections are an FDA-approved neuromodulator treatment for lines and wrinkles that form in the upper face area. As we age and continue to make facial expressions, the facial muscles pull and fold the overlying skin creating visible creases. Botox works by blocking the nerve signals to the muscle in which it was injected. Without a signal, the muscle is not able to contract, resulting in diminished unwanted facial wrinkles. This results in smoother, more youthful-looking skin.
How is a Botox Injection Procedure Performed?
On the surface, Botox injections are quite simple, but should only be administered by experienced healthcare professionals. At Saguaro Dermatology, our physicians will work with you to determine which muscles need to be treated. A very thin needle is then used to precisely inject small amounts of Botox into the specified muscles.
Cosmetic Botox treatment usually takes 10-20 minutes. The number of injections you need will depend on your facial features and the extent of your wrinkles. Physicians at Saguaro Dermatology in Phoenix and Mesa will work with you to create a customized treatment plan to meet your needs.
Looking for Botox in Phoenix or Mesa, Arizona?
Cosmetic Botox candidates looking to receive Botox treatment are healthy adults who wish to improve or prevent visible signs of aging on their face. They experience unwanted lines and wrinkles on their forehead, between the eyebrows, around the eyes, etc. Botox patients do not desire to undergo more invasive treatment such as facial surgery.
Botox is not recommended for those who are pregnant or nursing, those who have neuromuscular diseases, or those who have active skin issues in areas of treatment such as acne or psoriasis.
Before receiving treatment, you should inform your physician about all of your medical conditions, including whether you have a disease that affects your muscles and nerves, have allergies to any botulinum toxin product, or have experienced any side effects from any other botulinum toxin in the past. Aso disclose your medical history and all the medicines you take.
How Much Does Botox Cost?
The cost of Botox injections can vary. It is based on factors such as how advanced the fine lines and wrinkles are, how aggressively you want to treat the areas of concern, and the amount of product used.
Here in Phoenix and Mesa, at Saguaro Dermatology, botox prices include $350 for one area (such as the forehead or glabella) or 50 Units for $675 with a customized plan that you and one of our physicians create. Customized care is our specialty. Our physicians will work with you to create a personalized treatment plan to meet your specific needs.
Contact our Phoenix or Mesa clinic to learn more about Botox prices and any current Botox specials.
Preventative Botox in Phoenix and Mesa
Botox is as much preventative as it is therapeutic. "Baby Botox", or use of Botox in younger patients and typically at lower doses aims to prevent or eliminate lines while still providing natural movement. Our experts at Saguaro Dermatology will listen and then work with you to design a customized plan that works best for you, your lifestyle, and your goals.
Our Approach and Expertise for Botox Patients
We believe that Botox injections performed by experienced board-certified dermatologists are safer and of higher quality than those performed by other practitioners.
Our board-certified dermatologists and professional staff will know the specifics of your health history and treatment and will be able to respond to any concerns you have. Treatments provided by Saguaro Dermatology are always customized to an individual patient's needs, lifestyle, and priorities.
Saguaro Dermatology Reviews
Itaro Elaisa



"I totally recommend this place to anyone who's looking for a dermatologist who's professional, informative, respectful and very helpful. They are quick to solve your problems and get you home."

Wendy L.

I had an awesome experience with Dr Hamann and staff. I was very comfortable and i was able to have all my questions answered without feeling rushed. The staff was courteous and welcoming.
Kristin U



"Dr Dathan and the team were very helpful, kind and knowledgeable. Plus, there was no wait time so I was able to get back to work faster than expected. I would highly recommend."

Robert P.

Staff was friendly, & on time. office is super clean!! Doctor was awesome, felt like a family member taking care of me.

Sally S.



"Very friendly and professional. I had a great experience, Dr. Hamann was very good at answering my questions and concerns. I will certainly come back for another visit."

Amanda C.

Great doctor and friendly, professional staff. The doctor spends time listening and answering questions, something rare to find anymore. The office is beautiful and very clean. I love all the artwork with saguaros.

Kylin L.



"The office was recently renovated–it is a beautiful, clean, and calm environment. I would highly recommend this practice for anyone who is looking for a general dermatologist."

L

Dr. Hamann is very knowledgeable, nice, and professional. You can tell that he truly cares about his patients by the way he operates. He took the time to listen to all of my concerns then address them with good, well-informed answers.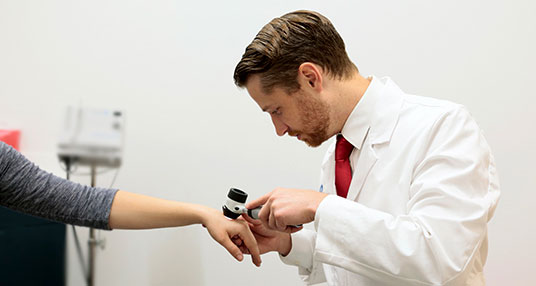 About Saguaro Dermatology
Our comprehensive dermatology clinic is dedicated to providing you with the highest quality of care, innovative practices, helpful resources and state-of-the-art technology to prevent and treat a multitude of skin disorders. Led by Carsten R. Hamann, MD, PhD, Dathan Hamann, MD, FAAD, and Millard Thaler, MD, Mohs Surgeon, our passionate team looks forward to serving you with respect and compassion.