Acne
Acne is the most common skin problem in the United States, affecting up to 50 million Americans every year. The most common causes of acne are 1) clogged pores, 2) increased oil production…
Actinic Keratosis
An actinic keratosis (plural, keratoses) is a small, crusty patch that forms on sun-damaged skin. It may be white and wart like in appearance but may also be pink, red, or brown. Actinic keratoses older than 40 who….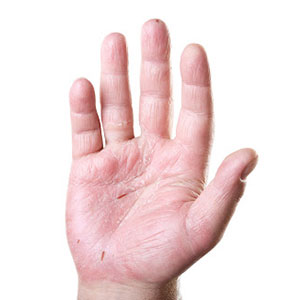 Allergic Contact Dermatitis
Allergic contact dermatitis is a skin condition caused by a reaction to a contact allergen. The reaction does not occur upon first contact but after a second or repeated exposure over time to the same allergen. Common contact…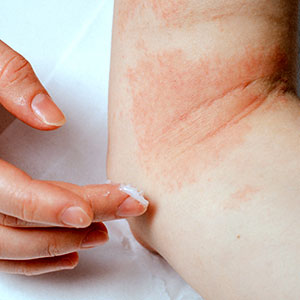 Eczema/Atopic Dermatitis
Atopic dermatitis—more commonly known as eczema—is a chronic, inflammatory condition that can make your skin red, blotchy, and itchy. Commonly connected to a family history of allergies, onset frequently occurs in infancy…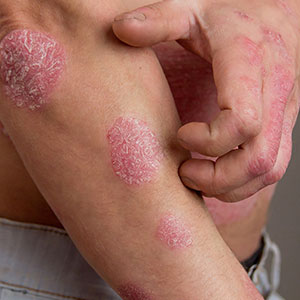 Psoriasis
Psoriasis is an immune-mediated disease that causes your body to make new skin cells too quickly. As a result,  thick, scaly rashes called plaques form on the skin, especially on knees, elbows, the lower back, and the scalp…
Rosacea
Rosacea is a chronic, inflammatory skin disease that can also affect the blood vessels and nerves of the skin. The most common symptoms include redness and flushing on the cheeks and nose, but this may also affect the…
Skin Cancer
Like other forms of cancer, skin cancer is an abnormal growth of cells. It usually develops on skin exposed to the sun. Common forms of skin cancer include basal cell carcinoma, squamous cell carcinoma, and melanoma…
Warts
Warts are noncancerous skin growths caused by an infection from the human papilloma virus (HPV). Types of warts include common warts, which are small, tough bumps that typically appear on the fingers…
75 Minute Exfoliate Dermaplane
Brighten and smooth your skin and remove fine lines with a dermaplane facial. Dermaplaning uses an exfoliating blade to skim off dead skin cells, leaving new, bright skin cells that last for up to 3 weeks.
$100
Series of 3 Facials – Save 20%!
Buy a series of 3 customized, 60-minute facials to use up to 6 months after purchase and save!
$240
Smores Facial
Maximize hydration and reduce inflammation with this delicious signature 60-minute smores facial treatment. Loaded with peptides, the Smores facil uses a coco enzyme and marshmallow whip hydration mask to leave your skin feeling soothed and hydrated.
$80
Microdermabrasion
Brighten and tone your skin with a Microdermabrasion! Microdermabrasion is a non-invasive procedure that uses a sterile diamond tip head to renew the overall skin tone and texture by removing the very outer layer of the skin.
$70
Contact Our Team Today:
Set up an appointment with our friendly staff at 480 681-3300