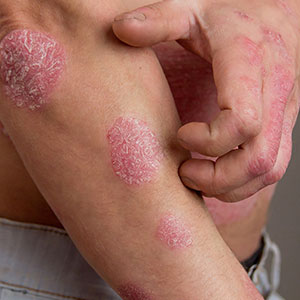 Most of us have heard of psoriasis. Not only have we seen television ads for medications to treat this common disease, many of us know someone who has a form of it. And while only 2 to 3 percent of the population globally develops psoriasis, that figure includes 8 million Americans. Still, other than the hallmark scaly red patches on the skin, what do we know about psoriasis?
Psoriasis is a "chronic relapsing disease," which means that it may come and go but it does not go away completely. It may require therapy over a long period of time. However, due to breakthroughs in the understanding of psoriasis over the last 15 years, highly effective therapies are now available.
In treating your psoriasis, our board-certified dermatologist will not only consider the severity of the disease but also its effect on your quality of life. With guidance, you will learn how to develop a good skin care routine, recognize the triggers to flare-ups, and, when necessary, modify your lifestyle to prevent the psoriasis from becoming worse. With personalized consultation and regular follow-up, you can gain control over the condition.
Saguaro Dermatology Reviews
Itaro Elaisa



"I totally recommend this place to anyone who's looking for a dermatologist who's professional, informative, respectful and very helpful. They are quick to solve your problems and get you home."

Wendy L.

I had an awesome experience with Dr Hamann and staff. I was very comfortable and i was able to have all my questions answered without feeling rushed. The staff was courteous and welcoming.
Kristin U



"Dr Dathan and the team were very helpful, kind and knowledgeable. Plus, there was no wait time so I was able to get back to work faster than expected. I would highly recommend."

Robert P.

Staff was friendly, & on time. office is super clean!! Doctor was awesome, felt like a family member taking care of me.

Sally S.



"Very friendly and professional. I had a great experience, Dr. Hamann was very good at answering my questions and concerns. I will certainly come back for another visit."

Amanda C.

Great doctor and friendly, professional staff. The doctor spends time listening and answering questions, something rare to find anymore. The office is beautiful and very clean. I love all the artwork with saguaros.

Kylin L.



"The office was recently renovated–it is a beautiful, clean, and calm environment. I would highly recommend this practice for anyone who is looking for a general dermatologist."

L

Dr. Hamann is very knowledgeable, nice, and professional. You can tell that he truly cares about his patients by the way he operates. He took the time to listen to all of my concerns then address them with good, well-informed answers.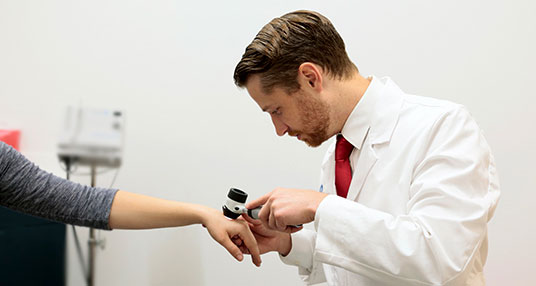 About Saguaro Dermatology
Our comprehensive dermatology clinic is dedicated to providing you with the highest quality of care, innovative practices, helpful resources and state-of-the-art technology to prevent and treat a multitude of skin disorders. Led by Carsten R. Hamann, MD, PhD, Dathan Hamann, MD, FAAD, and Millard Thaler, MD, Mohs Surgeon, our passionate team looks forward to serving you with respect and compassion.