What is Sun-damaged Skin?
Sun-related skin damage can manifest as sunburn, (which can be a first- or second-degree burn) or itchy rash from sunlight. Chronic sun damage and sunburns also increase your risk for skin cancer. Overexposure to the sun can also result in increased freckling or "age spots," uneven and increased skin pigmentation, and the appearance of pigmented patches on the face (melasma). Chronic sun damage also can predispose you to actinic keratoses, which are scaly, rough, precancerous patches that appear on the face, nose, ears, lower arms, or hands. Many of the most common signs associated with skin aging are also significantly worsened by chronic sun exposure.
Protect yourself from Sun-damaged Skin
Sunprotection doesn't start with sunscreen. It starts with planning your activities to avoid direct sun during the day's most intense hours. Then make use of sunprotective clothing, hats, and sunglasses. Finally, use sunscreen to high-risk areas or exposed skin.
Saguaro Dermatology Reviews
Itaro Elaisa

"I totally recommend this place to anyone who's looking for a dermatologist who's professional, informative, respectful and very helpful. They are quick to solve your problems and get you home."

Wendy L.

I had an awesome experience with Dr Hamann and staff. I was very comfortable and i was able to have all my questions answered without feeling rushed. The staff was courteous and welcoming.
Kristin U

"Dr Dathan and the team were very helpful, kind and knowledgeable. Plus, there was no wait time so I was able to get back to work faster than expected. I would highly recommend."

Robert P.

Staff was friendly, & on time. office is super clean!! Doctor was awesome, felt like a family member taking care of me.

Sally S.

"Very friendly and professional. I had a great experience, Dr. Hamann was very good at answering my questions and concerns. I will certainly come back for another visit."

Amanda C.

Great doctor and friendly, professional staff. The doctor spends time listening and answering questions, something rare to find anymore. The office is beautiful and very clean. I love all the artwork with saguaros.

Kylin L.

"The office was recently renovated–it is a beautiful, clean, and calm environment. I would highly recommend this practice for anyone who is looking for a general dermatologist."

L

Dr. Hamann is very knowledgeable, nice, and professional. You can tell that he truly cares about his patients by the way he operates. He took the time to listen to all of my concerns then address them with good, well-informed answers.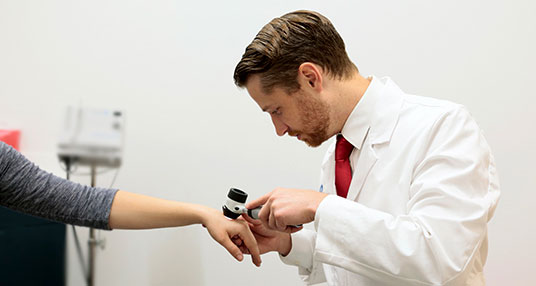 About Saguaro Dermatology
Our comprehensive dermatology clinic is dedicated to providing you with the highest quality of care, innovative practices, helpful resources and state-of-the-art technology to prevent and treat a multitude of skin disorders. Led by Carsten R. Hamann, MD, PhD, Dathan Hamann, MD, FAAD, and Millard Thaler, MD, Mohs Surgeon, our passionate team looks forward to serving you with respect and compassion.