Dr. Dathan Hamann is a world-renowned expert in patch testing for the diagnosis of allergic contact dermatitis. Photopatch testing is the diagnostic test for light-activated allergic contact dermatitis.
The photopatch test is used to detect photoallergic reactions to various antigens that can be found in sunscreens, fragrances, or medicines. Various panels are applied to the patient's back, and then they are exposed to UVA light.
After the exposure, panels are worn for two days, like standard patch testing, before Dr. Hamann would complete the reading and determine final results. Photo patch testing is the only way to make a definitive diagnosis of photoallergic eczema or photo allergic contact dermatitis.
The Wood's Lamp is a small, hand-held device that illuminates areas of your skin with a black light to detect bacterial or fungal infections. It can also be used to help detect conditions such a vitiligo or even a corneal abrasion on the surface of the eye. The light is held over the skin in a dark room, and if certain bacteria, fungi, or skin pigment changes are present, the affected area will change color under the light.
An electrodessication unit is a multi-function electrosurgical device that can be used in a variety of dermatological procedures. It uses electricity to perform skin procedures. Because it can generate a wide range of power, it can be used for delicate cosmetic procedures or for controlling bleeding and limiting bruising during and after surgery. In some instances, it can also be used to treat early forms of skin cancer or precancers.
Cryotherapy uses liquid nitrogen to interact and change skin tissues. It is commonly used to destroy benign spots like warts or to treat precancerous spots. It can also be used on a cosmetic basis to remove skin tags, seborrheic keratoses, or to help lighten skin other benign spots. It can also be used to control itchy spots in some instances.
Saguaro Dermatology Reviews
Itaro Elaisa



"I totally recommend this place to anyone who's looking for a dermatologist who's professional, informative, respectful and very helpful. They are quick to solve your problems and get you home."

Wendy L.

I had an awesome experience with Dr Hamann and staff. I was very comfortable and i was able to have all my questions answered without feeling rushed. The staff was courteous and welcoming.
Kristin U



"Dr Dathan and the team were very helpful, kind and knowledgeable. Plus, there was no wait time so I was able to get back to work faster than expected. I would highly recommend."

Robert P.

Staff was friendly, & on time. office is super clean!! Doctor was awesome, felt like a family member taking care of me.

Sally S.



"Very friendly and professional. I had a great experience, Dr. Hamann was very good at answering my questions and concerns. I will certainly come back for another visit."

Amanda C.

Great doctor and friendly, professional staff. The doctor spends time listening and answering questions, something rare to find anymore. The office is beautiful and very clean. I love all the artwork with saguaros.

Kylin L.



"The office was recently renovated–it is a beautiful, clean, and calm environment. I would highly recommend this practice for anyone who is looking for a general dermatologist."

L

Dr. Hamann is very knowledgeable, nice, and professional. You can tell that he truly cares about his patients by the way he operates. He took the time to listen to all of my concerns then address them with good, well-informed answers.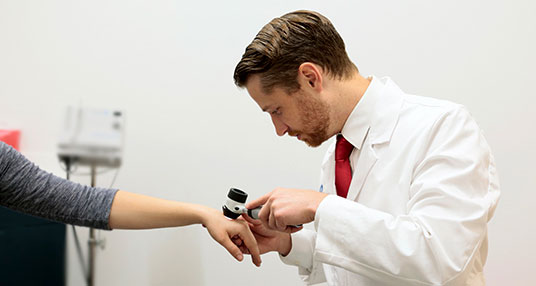 About Saguaro Dermatology
Our comprehensive dermatology clinic is dedicated to providing you with the highest quality of care, innovative practices, helpful resources and state-of-the-art technology to prevent and treat a multitude of skin disorders. Led by Carsten R. Hamann, MD, PhD, Dathan Hamann, MD, FAAD, and Millard Thaler, MD, Mohs Surgeon, our passionate team looks forward to serving you with respect and compassion.