Fractional Pixel CO2 Laser Resurfacing
The Pixel carbon dioxide (CO2) laser is a powerful tool that has revolutionized skin resurfacing and rejuvenation procedures. This cutting-edge laser technology has gained popularity due to its remarkable precision, versatility, and effectiveness in addressing a wide range of dermatological concerns. Some of the skin conditions that can be effectively addressed with the Pixel CO2 laser include, wrinkles and fine lines, acne scars, skin texture irregularities, and skin rejuvenation.
What is Skin Resurfacing?
Skin resurfacing is a cosmetic procedure that aims to improve the texture, tone and appearance of the skin. It involves the removal of the outer layers of the damaged or aged skin to stimulate the growth of new and healthier skin cells. This process can be used to address various skin concerns such as wrinkles, fine lines, acne scars, stretch marks, pigmentation irregularities, and rough skin texture. Skin resurfacing can be performed using different methods, including lasers, chemical peels, and dermabrasion, tailored to individual needs and desired outcomes.
What is the Fractional Pixel CO2 Laser?
The Pixel CO2 laser is a type of ablative fractional laser that utilizes carbon dioxide as its primary energy source. It emits a highly focused beam of laser light targeting specific areas of the skin. Unlike traditional CO2 lasers, the Pixel CO2 laser delivers fractional ablative treatment, meaning it treats only a selected area of the skin surface while leaving surrounding tissues intact. The fractionated laser approach allows faster healing while reducing the risk of adverse effects.
The Pixel CO2 laser works by delivering intense bursts of laser energy onto your skin surface. This energy is absorbed by the water molecules within the skin, causing controlled vaporization of the targeted tissues. The ablation process removes the damaged outer layers of the skin, stimulating the body's natural healing response and promoting the growth of new, healthier skin cells. Additionally, the laser energy stimulates the production of collagen, elastin, and the enzymes needed for natural collagen production.
What are the Skin Conditions That the Pixel CO2 Laser Treats?
The Pixel CO2 laser is a versatile tool with various applications in dermatology. It is primarily used for skin resurfacing, addressing concerns such as
Wrinkles and fine lines: The laser stimulates collagen production, reducing the appearance of facial wrinkles and fine lines.
Acne scars: By removing damaged skin layers, the Pixel CO2 laser can significantly improve the appearance of acne scars.
Pigmentation irregularities: The laser targets and breaks down excess melanin, reducing the appearance of sunspots, age spots, and hyperpigmentation.
Skin texture and tone: This treatment promotes smoother skin texture and evens out skin tone, addressing issues like roughness and uneven pigmentation.
Actinic keratoses: As the laser can remove abnormal cells and can restore healthier skin, actinic keratoses can be effectively treated with the Pixel CO2 laser (1).
Photodamaged skin: This procedure can be used to restore healthy skin in individuals with photodamaged/sun damaged skin (2).
How do I Prepare for my CO2 Laser Treatment?
Your healthcare provider will provide specific pre-treatment instructions based on your individual needs. Typically, these pre-treatment instructions include, but not limited to, cleansing the treatment area thoroughly before the procedure, avoiding makeup or skin care products on the day of treatment, and arriving with clean, make up free skin. It is very important during the patient consultation to go over pre/post care to have a safe and efficacious outcome. At Saguaro dermatology we typically provide every patient with an antibiotic and antiviral prescription to take 24-48 hours before the treatment. By preparing appropriately you can enhance the effectiveness of the procedure and minimize any potential complications.
What is the Recovery Process?
The Pixel CO2 laser treatment requires some downtime for the skin to heal properly. The recovery process typically takes about 1 – 2 weeks, but it depends on each individual. There will be special post-treatment instructions and recommendations you have to follow including applying ointments, avoiding sun exposure, and following a specific skin care routine. Make sure to plan accordingly, ensuring you have sufficient time off from work or other commitments to allow for recovery and follow-up appointments.
How Long Will the Results Last?
While it is hard to predict an exact timeframe, the effects of Pixel CO2 laser treatment are generally long-lasting. The laser treatment stimulates collagen production in the skin and the new collagen formation continues over time, contributing to the longevity of the results. However, it is important to note that the natural aging process, lifestyle factors (e.g., smoking, sun exposure) and individual skin conditions can influence how long the results of Pixel CO2 laser treatment will last.
Our Approach and Expertise
The staff at Saguaro Dermatology are dedicated to providing you with the highest quality of care, innovative practices, helpful resources, and state-of-the-art technology to prevent and treat a multitude of skin disorders for patients in Ahwatukee, Central Phoenix, Mesa, and Sun City West. The Pixel CO2 laser is located in our Ahwatukee clinic.
Our providers are experienced in Pixel CO2 laser treatment and are ready to help you achieve the look you desire.
Final Word on Pixel CO2 Laser Treatment
The Pixel CO2 laser is a versatile and advanced tool used in dermatology clinics mainly used in cosmetic procedures such as wrinkle reduction, skin resurfacing, scar improvement and pigment correction. The laser delivers fractional ablative treatment, targeting only specific areas. Its customizable settings allow for personalized treatment plans. Due to its versatility, precision, and long lasting results, the Pixel CO2 laser has become popular. If you would like to know if this is the right treatment for your skin condition, do not hesitate to contact an experienced dermatologist to discuss your options. The team at Saguaro Dermatology has successfully treated individuals with different skin conditions. Our board-certified dermatologists and our caring and experienced staff are always ready to help you at Saguaro Dermatology, conveniently located in four locations, Ahwatukee, Central Phoenix, Mesa, and Sun City West, AZ.
Saguaro Dermatology Reviews
Itaro Elaisa



"I totally recommend this place to anyone who's looking for a dermatologist who's professional, informative, respectful and very helpful. They are quick to solve your problems and get you home."

Wendy L.

I had an awesome experience with Dr Hamann and staff. I was very comfortable and i was able to have all my questions answered without feeling rushed. The staff was courteous and welcoming.
Kristin U



"Dr Dathan and the team were very helpful, kind and knowledgeable. Plus, there was no wait time so I was able to get back to work faster than expected. I would highly recommend."

Robert P.

Staff was friendly, & on time. office is super clean!! Doctor was awesome, felt like a family member taking care of me.

Sally S.



"Very friendly and professional. I had a great experience, Dr. Hamann was very good at answering my questions and concerns. I will certainly come back for another visit."

Amanda C.

Great doctor and friendly, professional staff. The doctor spends time listening and answering questions, something rare to find anymore. The office is beautiful and very clean. I love all the artwork with saguaros.

Kylin L.



"The office was recently renovated–it is a beautiful, clean, and calm environment. I would highly recommend this practice for anyone who is looking for a general dermatologist."

L

Dr. Hamann is very knowledgeable, nice, and professional. You can tell that he truly cares about his patients by the way he operates. He took the time to listen to all of my concerns then address them with good, well-informed answers.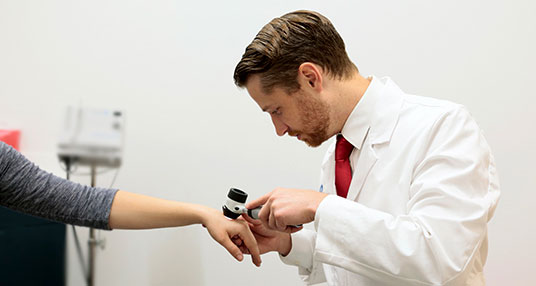 About Saguaro Dermatology
Our comprehensive dermatology clinic is dedicated to providing you with the highest quality of care, innovative practices, helpful resources and state-of-the-art technology to prevent and treat a multitude of skin disorders. Led by Carsten R. Hamann, MD, PhD, Dathan Hamann, MD, FAAD, and Millard Thaler, MD, Mohs Surgeon, our passionate team looks forward to serving you with respect and compassion.