Ringworm is a shallow skin infection caused by a fungus. A circular ring-shaped rash is developed during this infection, hence the name "ringworm." Don't' worry–no worms are involved. It can affect individuals in all age groups. Reddish, itchy, scaly, circular patches of ringworm can show up anywhere on the body. Common areas for this infection to appear include the feet (athlete's foot) and the groin (jock itch). Ringworm is more common in warmer climates.
What does ringworm look like?
Ringworm infection appears as reddish, ring-like patches on the skin. Typically, these patches have a raised, wavy border. The middle of the patch is flat and may become less red as it grows in size. The patches may or may not be itchy. Ringworm of the scalp usually starts as a small bump or a tiny sore which may feel tender to the touch. It can grow in size and spread to make patches that are a few inches in diameter. In severe cases, hair will fall out of these patches leaving bald spots in the affected area.
What are common causes of ringworm infection?
There is an increased risk of getting ringworm infection if a person:
Comes in contact with an infected pet or animal (new kitten, new guinea pig)
Has contact with an infected person, as ringworm often spreads through skin-to-skin contact.
Is immunocompromised due to other disease conditions or from medical treatment
Plays contact sports where there is skin-to skin contact, such as wrestling
Shares clothing, towels, combs, and sports gear (e.g., helmets) with an infected person
Uses communal showers and locker rooms
How do I know if I have ringworm?
If you are not sure the rash you have is a ringworm infection, consult a dermatologist. There are many other skin conditions that look like ringworm, so it is better to have a board-certified dermatologist give you a proper diagnosis.
Types of Ringworm Treatments
Ringworm treatments depend on where the infection is and the severity of the infection. Treatment options mainly address two aspects: clearing the infection and stopping the infection from returning. Your dermatologist may recommend over-the-counter creams such as tolnaftate (Tinactin®), clotrimazole (Lotramin®) or miconazole to treat your ringworm infection. These products are often found in the foot care aisle as they are typically used to treat athlete's foot. In most cases continuous use of these medicine for 2-4 weeks is necessary to remove the fungus and to reduce the chances of the infection from returning.
Typically, over-the-counter treatments are not strong enough to treat ringworm of the scalp. In most cases it must be treated with systemic antifungal medicine (tablets), as topical agents do not penetrate the hair shafts to clear the infection. In addition, 1% or 2.5% selenium sulfide shampoo or 2% ketoconazole shampoo are sometimes used for the first two weeks to reduce further spreading (1).
Treatments for Ringworm in Phoenix and Mesa, Arizona
Although ringworm is contagious, it can be treated with proper antifungal treatments. The staff at Saguaro Dermatology are dedicated to providing you with the highest quality of care, innovative practices, helpful resources, and the state-of-the-art technology to prevent and treat a multitude of skin disorders for patients in the Phoenix and Mesa area. Our dermatologists are experienced in treating skin infections including ringworm infection and are ready to help you.
Ringworm is a fungal infection that can affect any part of the body. It can spread through skin-to-skin contact from one infected person to another person or from one part of the body to another. Over-the-counter antifungal creams should be able to treat most of the ringworm infections. Severe or untreated ringworm infection can affect the way you feel about your appearance. If you are not sure if you have ringworm infection or do not know how to choose the right treatment, contact an experienced dermatologist. The team at Saguaro Dermatology has successfully treated individuals with different skin conditions, including ringworm. Our board-certified dermatologist along with our caring and experienced staff are always ready to help you at Saguaro Dermatology, conveniently located at two campuses in Phoenix and Mesa, AZ.
Saguaro Dermatology Reviews
Itaro Elaisa

"I totally recommend this place to anyone who's looking for a dermatologist who's professional, informative, respectful and very helpful. They are quick to solve your problems and get you home."

Wendy L.

I had an awesome experience with Dr Hamann and staff. I was very comfortable and i was able to have all my questions answered without feeling rushed. The staff was courteous and welcoming.
Kristin U

"Dr Dathan and the team were very helpful, kind and knowledgeable. Plus, there was no wait time so I was able to get back to work faster than expected. I would highly recommend."

Robert P.

Staff was friendly, & on time. office is super clean!! Doctor was awesome, felt like a family member taking care of me.

Sally S.

"Very friendly and professional. I had a great experience, Dr. Hamann was very good at answering my questions and concerns. I will certainly come back for another visit."

Amanda C.

Great doctor and friendly, professional staff. The doctor spends time listening and answering questions, something rare to find anymore. The office is beautiful and very clean. I love all the artwork with saguaros.

Kylin L.

"The office was recently renovated–it is a beautiful, clean, and calm environment. I would highly recommend this practice for anyone who is looking for a general dermatologist."

L

Dr. Hamann is very knowledgeable, nice, and professional. You can tell that he truly cares about his patients by the way he operates. He took the time to listen to all of my concerns then address them with good, well-informed answers.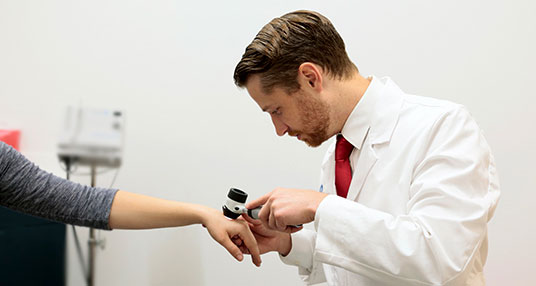 About Saguaro Dermatology
Our comprehensive dermatology clinic is dedicated to providing you with the highest quality of care, innovative practices, helpful resources and state-of-the-art technology to prevent and treat a multitude of skin disorders. Led by Carsten R. Hamann, MD, PhD, Dathan Hamann, MD, FAAD, and Millard Thaler, MD, Mohs Surgeon, our passionate team looks forward to serving you with respect and compassion.