The Ohio State Alumni Dermatologist of Phoenix
Saguaro Dermatology's Medical Director is proud to be an Ohio State Alumni.
After earning his medical degree at the University of Arizona, our Medical Director, Dathan Hamann, MD, FAAD, headed to the midwest to complete his residency at The Ohio State University. Although busy in his role as Chief Resident of Research, he still found time to cheer on the Buckeyes and grab a bowl of Skyline Chili.
In 2018, he moved back to Arizona…to open Saguaro Dermatology, in Central Phoenix. Dathan is a proud Buckeye, and is happy to serve his fellow alumni's dermatology needs. He will always return your "OH" with an "IO!"
Book your FREE skin cancer screening at Saguaro Dermatology today!
Saguaro Dermatology Reviews
Itaro Elaisa



"I totally recommend this place to anyone who's looking for a dermatologist who's professional, informative, respectful and very helpful. They are quick to solve your problems and get you home."

Wendy L.

I had an awesome experience with Dr Hamann and staff. I was very comfortable and i was able to have all my questions answered without feeling rushed. The staff was courteous and welcoming.
Kristin U



"Dr Dathan and the team were very helpful, kind and knowledgeable. Plus, there was no wait time so I was able to get back to work faster than expected. I would highly recommend."

Robert P.

Staff was friendly, & on time. office is super clean!! Doctor was awesome, felt like a family member taking care of me.

Sally S.



"Very friendly and professional. I had a great experience, Dr. Hamann was very good at answering my questions and concerns. I will certainly come back for another visit."

Amanda C.

Great doctor and friendly, professional staff. The doctor spends time listening and answering questions, something rare to find anymore. The office is beautiful and very clean. I love all the artwork with saguaros.

Kylin L.



"The office was recently renovated–it is a beautiful, clean, and calm environment. I would highly recommend this practice for anyone who is looking for a general dermatologist."

L

Dr. Hamann is very knowledgeable, nice, and professional. You can tell that he truly cares about his patients by the way he operates. He took the time to listen to all of my concerns then address them with good, well-informed answers.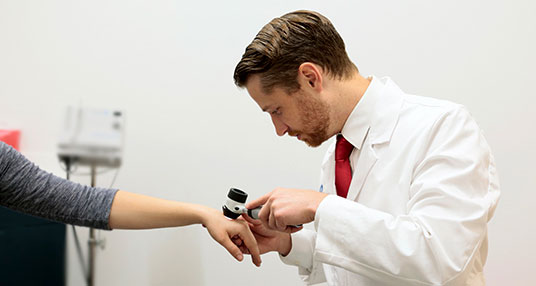 About Saguaro Dermatology
Our comprehensive dermatology clinic is dedicated to providing you with the highest quality of care, innovative practices, helpful resources and state-of-the-art technology to prevent and treat a multitude of skin disorders. Led by Carsten R. Hamann, MD, PhD, Dathan Hamann, MD, FAAD, and Millard Thaler, MD, Mohs Surgeon, our passionate team looks forward to serving you with respect and compassion.