Rosehip Regenerative Balancing Cleanser
This Rosehip Seed Cleanser is professionally formulated to balance the skin's natural pH balance in a deep wash that lifts dirt and impurities from the skin pores, while delivering all the regenerative benefits of Rosehip Seed Oil. Rosehip Seed Oil is an active ingredient that offers extensive benefits to the rejuvenation process and maintains the health of your skin. Rich in Vitamin A, C, E and F, it helps reduce the appearance of wrinkles and restore a firmer, smoother, and younger looking appearance. Included in a deep cleansing gel, the Rosehip Seed Cleanser helps deliver skin nourishing vitamins in an invigorating and rejuvenating wash making it the perfect choice for an everyday cleanser.
Well suited for all skin types and conditions including acne and rosacea
Gently removes dirt, excess oil, makeup, and other impurities
Provides thorough, sulfate-free cleansing without disrupting moisture balance
Delivers nutrients to maintain healthy skin
Lightweight gel-based formula features a subtle yet refreshing scent
When to Apply
Apply twice daily in the morning and evening to maintain clean, beautiful skin.
Where to Apply
Apply small amounts onto the face and neck to restore a firmer, smoother, younger appearance.
How to Apply
Wet face with warm water. Dispense cleanser into your and and massage onto your face in a circular motion, working into lather and rinse with water to remove. Avoid the eye area. Rinse thoroughly with warm water. Discontinue use if redness or irritation occurs. Do not ingest. Keep out of eyes.
Pro-Tip
To ensure full UV protection daily after cleansing, follow with the application of antioxidant-rich products such as Mega CBE & Ferulic Super Serum and Stay Ageless Tinted Mineral Sunscreen Broad Spectrum SPF 30 daily.
Key Ingredients
Chondrus Crispus and Corallina Officinalis (Seaweed) Extracts extracts from red seaweed with abundant vitamins and minerals as well as moisturizing properties attributed to the ability to react with protein to provide an occlusive-type benefit to seal in hydration, minimize sensitivity and bacteria, and aid in skin renewal processes.
Melia Azadirachta Extracts Neem extracts (aka Chinaberry) have antioxidant and skin-calming benefits and may also help reduce the population of harmful microbes on the skin's surface for rosacea and acne-prone skin. Polysaccharides in neem extracts are emollients which can contribute to skin's optimal hydration level and improve healing processes making this cleanser excellent for post-procedure skincare.
Rosa Rubiginosa (Rosehip) Seed Oil a natural source of trans-retinoic acid for all benefits associated with vitamin A for rejuvenation and overall skin health, improves skin hydration while helping to regulate oil secretion. Rosehip Seed Oil features nourishing essential fatty acids which are vital structural lipid components of cells, as well as beneficial antioxidants such as tocopherols, polyphenols, and carotenoids.
Full Ingredients
Water (Aqua), Glycerin, Sodium C14-16 Olefin Sulfonate, Cocamidopropyl Betaine, Cocamide MIPA, Rosa Damascena Flower Water *Fragrance, Propanediol, Sodium Chloride, Chondrus Crispus (Carrageenan) Extract, Citric Acid, Ethylhexylglycerin, Potassium Sorbate, Melia Azadirachta Flower Extract, Melia Azadirachta Leaf (Neem Leaf) Extract, Corallina Officinalis Extract, Betaine, Coccinia Indica Fruit Extract, Rosa Rubiginosa (Rosehip) Seed Oil, Decyl Glucoside, Krameria Triandra Root Extract, Lycopene.
Saguaro Dermatology Reviews
Itaro Elaisa



"I totally recommend this place to anyone who's looking for a dermatologist who's professional, informative, respectful and very helpful. They are quick to solve your problems and get you home."

Wendy L.

I had an awesome experience with Dr Hamann and staff. I was very comfortable and i was able to have all my questions answered without feeling rushed. The staff was courteous and welcoming.
Kristin U



"Dr Dathan and the team were very helpful, kind and knowledgeable. Plus, there was no wait time so I was able to get back to work faster than expected. I would highly recommend."

Robert P.

Staff was friendly, & on time. office is super clean!! Doctor was awesome, felt like a family member taking care of me.

Sally S.



"Very friendly and professional. I had a great experience, Dr. Hamann was very good at answering my questions and concerns. I will certainly come back for another visit."

Amanda C.

Great doctor and friendly, professional staff. The doctor spends time listening and answering questions, something rare to find anymore. The office is beautiful and very clean. I love all the artwork with saguaros.

Kylin L.



"The office was recently renovated–it is a beautiful, clean, and calm environment. I would highly recommend this practice for anyone who is looking for a general dermatologist."

L

Dr. Hamann is very knowledgeable, nice, and professional. You can tell that he truly cares about his patients by the way he operates. He took the time to listen to all of my concerns then address them with good, well-informed answers.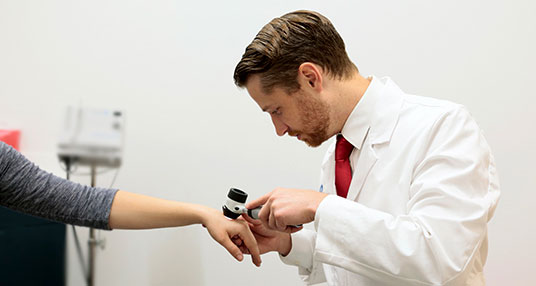 About Saguaro Dermatology
Our comprehensive dermatology clinic is dedicated to providing you with the highest quality of care, innovative practices, helpful resources and state-of-the-art technology to prevent and treat a multitude of skin disorders. Led by Carsten R. Hamann, MD, PhD, Dathan Hamann, MD, FAAD, and Millard Thaler, MD, Mohs Surgeon, our passionate team looks forward to serving you with respect and compassion.