Vitiligo (pronounced vit-ih-LIE-go) is a chronic, persistent skin disease that causes sharply delineated patches of your skin to lose color and turn white. It can also drain color from the hair on your face and scalp as well as your eyebrows and eyelashes. You might have heard of vitiligo in connection with Michael Jackson, whose very public struggle with this skin condition brought attention to it in the 1980s.
An estimated 2% of the global population has vitiligo, and half of all cases appear before the age of 20 (1). However, regardless of when you experience the first signs of the condition, it tends to reach its peak in the second or third decade after onset. Moreover, vitiligo affects people of all skin types and races, as well as both males and females.
Vitiligo by itself is not associated with other health issues, but because it typically presents on the face and neck, it can have a devastating impact on body image and self-confidence. It can also raise other concerns about appearance and ethnic identity. This may be particularly true in people with darker skin because the loss of color is more noticeable.
If you have vitiligo, your main concern will be what you can do to get rid of it or at least minimize it. But before we get to those points, it's helpful to understand what vitiligo is and what causes it.
Because a clear cause for vitiligo cannot be identified, a treatment to cure it does not yet exist. However, there are more treatments available today than ever before. Let's look at some of the most common therapies now available.
What Is the Best Treatment for Vitiligo?
Current treatments for vitiligo include nonsurgical and surgical approaches, and both focus on two clear goals: 1) stopping the disease from getting worse and 2) bringing color back to the affected patches of skin (3). Achieving these outcomes involves either stimulating the growth of more melanocytes (those cells that produce the color) or interfering with the mechanism that destroys the melanocytes, thus allowing them to function properly. Here we'll look primarily at some nonsurgical approaches.
Nonsurgical Repigmentation Treatments
Bringing color back to the affected skin is called repigmentation. Nonsurgical approaches to repigmentation include medications, i.e., topical corticosteroids or immunomodulators, and photo(chemo)therapy (PUVA). Following is a brief description of these therapies.
Surgical Repigmentation Therapy
There are a number of surgical therapies, all of which are complicated and used only after other therapies fail (3). The basic principle of repigmentation surgery involves transplanting melanocytes from pigmented skin to affected areas of skin with no melanocytes. The success of this kind of surgery depends on many factors, such as the area of skin receiving the transplant and the stability of the disease, so doctors select candidates for surgical repigmentation very carefully.
When therapies to restore color to the skin fail, a kind of reverse treatment can be done. Depigmentation therapy refers to a method of removing color from the skin that is not affected by vitiligo (3) to create a uniform skin tone. Using a "bleaching" agent called monobenzylether of hydroquinone, this therapy is performed only if more that 60 or 80% of the skin on your face or body is affected.
Finally, while combination treatments for vitiligo have been used for several decades, a new combination therapy has been reported that promises dramatic results. Testing has been limited, and findings will need to be duplicated. Still, this "breakthrough" treatment is just one example of the ongoing efforts to provide relief for individuals affected by this most visible of skin diseases.
What Else Can I Do to Manage My Vitiligo?
Although there is no cure for vitiligo, there are ways to minimize its impact on your life. The American Academy of Dermatology offers these tips:
Protect your skin from the sun with sunscreen and protective clothing
Seek shade
Refrain from using tanning beds and sun lamps
Use a self-tanner, concealing cream, dye or makeup to add color to your skin
Do not get a tattoo<
Learn more about possible options for treatment
Find a support group or connect with others who have vitiligo
Like other visible skin diseases, vitiligo can seriously erode your quality of life. The first step in taking back control is to speak with a caring and knowledgeable professional. Armed with more knowledge about your condition, you will have a clearer picture of the possibilities for treatment and be able to make better choices regarding your care. For more information, our board-certified dermatologists and the caring staff at Saguaro Dermatology are here to help.
Suggested Readings
Vitiligo, National Institute of Arthritis and Musculoskeletal and Skin Diseases, National Institutes of Health (NIH). https://www.niams.nih.gov/health-topics/vitiligo
Vitiligo, Genetics Home Reference, National Institutes of Health (NIH), U.S. National Library of Medicine. https://ghr.nlm.nih.gov/condition/vitiligo
Vitiligo: Overview, American Academy of Dermatology Association. https://www.aad.org/public/diseases/a-z/vitiligo-overview
1. Singh, RK (2017). "Impact of Ultraviolet Light on Vitiligo." Advances in experimental medicine and biology (0065-2598), 996 , p. 55.
2. Gill L, Zarbo A, Isedeh P, et al. Comorbid autoimmune diseases in patients with vitiligo: a cross-sectional study. J Am Acad Dermatol 2016;74(2):295-302.
3. Borderé AC, Lambert J, van Geel N. Current and emerging therapy for the management of vitiligo. Clin Cosmet Investig Dermatol 2009;2:15-25. https://www.ncbi.nlm.nih.gov/pmc/articles/PMC3047938/
4. AlGhamdi K, Kumar A, Moussa N. The role of vitamin D in melanogenesis with an emphasis on vitiligo. Indian J Dermatol Venereol Leprol 2013;79(6):750-758.
Saguaro Dermatology Reviews
Itaro Elaisa



"I totally recommend this place to anyone who's looking for a dermatologist who's professional, informative, respectful and very helpful. They are quick to solve your problems and get you home."

Wendy L.

I had an awesome experience with Dr Hamann and staff. I was very comfortable and i was able to have all my questions answered without feeling rushed. The staff was courteous and welcoming.
Kristin U



"Dr Dathan and the team were very helpful, kind and knowledgeable. Plus, there was no wait time so I was able to get back to work faster than expected. I would highly recommend."

Robert P.

Staff was friendly, & on time. office is super clean!! Doctor was awesome, felt like a family member taking care of me.

Sally S.



"Very friendly and professional. I had a great experience, Dr. Hamann was very good at answering my questions and concerns. I will certainly come back for another visit."

Amanda C.

Great doctor and friendly, professional staff. The doctor spends time listening and answering questions, something rare to find anymore. The office is beautiful and very clean. I love all the artwork with saguaros.

Kylin L.



"The office was recently renovated–it is a beautiful, clean, and calm environment. I would highly recommend this practice for anyone who is looking for a general dermatologist."

L

Dr. Hamann is very knowledgeable, nice, and professional. You can tell that he truly cares about his patients by the way he operates. He took the time to listen to all of my concerns then address them with good, well-informed answers.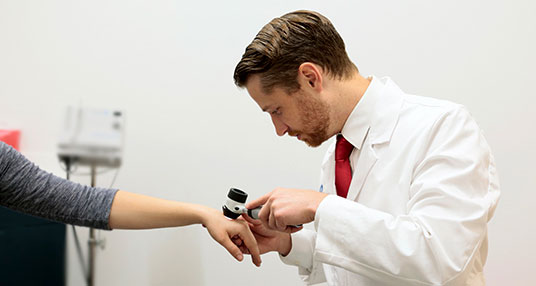 About Saguaro Dermatology
Our comprehensive dermatology clinic is dedicated to providing you with the highest quality of care, innovative practices, helpful resources and state-of-the-art technology to prevent and treat a multitude of skin disorders. Led by Carsten R. Hamann, MD, PhD, Dathan Hamann, MD, FAAD, and Millard Thaler, MD, Mohs Surgeon, our passionate team looks forward to serving you with respect and compassion.