Mohs surgery was invented by Dr. Frederic Mohs at the University of Wisconsin. Here at Saguaro Dermatology, we are lucky to have two skilled Mohs Surgeons. Dr. Thaler trained with Dr. Mohs personally and is an excellent dermatologist and specialized skin cancer surgeon. Dr. Wald has specialized in skin cancer detection and treatment over the course of her career and completed a highly sought fellowship in Mohs Microscopic Surgery and Dermatologic Oncology at St. Vincent Hospital in Indiana. During her fellowship, she completed more than 1,700 surgeries and reconstructions.
Mohs Surgery (also called Mohs Micrographic Surgery) is a surgical treatment used to remove skin tumors and certain skin cancers (usually nonmelanoma skin cancers). Mohs Surgery is an out-patient procedure during which the cancerous tissue is excised (cut out or removed), frozen, sliced into layers, and analyzed immediately to detect whether all the cancer has been removed. It is performed with local anesthetic, so you will be awake during the actual surgery. The process of "cutting" and "checking" may be repeated until all cancerous tissue has been eliminated, so patients have very high cure rates.
What Cancers Is Mohs Surgery Used For?
Mohs surgery is used on certain skin cancers, especially high-risk basal cell and squamous cell carcinomas, and on many other rare or aggressive skin tumors as well. In fact, patients with basal cell carcinomas receive the most referrals for Mohs micrographic surgery, followed by patients with squamous cell carcinomas. These nonmelanoma skin cancers account for roughly one million cancer cases in the United States, and skin cancer accounts for more than 50 percent of all cancers in the United States. Historically, Mohs surgery has not been used to treat melanomas because suspected melanomas, such as atypical moles or skin lesions with uncommon pigmented features (melanocytic atypia), are difficult to assess with frozen sections. However, the procedure is increasingly used to treat some forms of melanoma skin cancers as well.
Is Mohs Surgery Used for Particular Sites on the Body?
Mohs surgery is performed on skin tumors or lesions of all sizes in sensitive sites, such as the eyelids, nose, ears, lips, fingers, and genitalia. Mohs surgery is the preferred treatment in these cases because the procedure has the highest cure rate, but also "spares" the tissue surrounding the cancerous site, often resulting in less damage and scarring.
Mohs surgery is also used on larger tumors because these carry more risk of returning and/or invading nearby nerve bundles and because simpler approaches are often less effective on these kinds of tumors. A tumor of about a quarter inch (6 mm) or more in diameter on the central face is considered high risk, as is a tumor measuring three quarters of an inch (20 mm) or more on the back. Mohs surgery is also used on tumors in sites where radiation therapy has been performed and on aggressive or unpredictable tumors in general.
How Much Does Mohs Surgery Cost?
The cost of any medical procedure depends on the provider and kind of facility at which it is done—for example it is typically cheaper in a physician-owned private office compared to a hospital-owned outpatient surgical facility. Moreover, out-of-pocket costs vary greatly depending on the kind of insurance plan you have. You do have to pay for the "removal" and the "repair" separately because different repairs have different risks and difficulties. However, Mohs surgery is considered cost-effective compared with other treatments performed in an inpatient or outpatient setting, especially considering that it is the only procedure that includes the actual surgery, the pathology (lab work), anesthesia, and supply expenses (2). With Mohs surgery, it is not uncommon for a single payment to be made to a single provider. The staff at Saguaro Dermatology will be happy to explain billing for the procedure and to discuss all your options before scheduling.
Final Word on Mohs Surgery
Mohs surgery is a safe, effective, and cost-efficient treatment for skin cancers and tumors. It has the highest cure rates and preserves the greatest amount of normal tissue. There is no wait time for lab results, and any necessary reconstruction can be performed immediately.  We are pleased to offer Mohs Surgery in Phoenix and Mesa, Arizona. We have two  very experienced dermatologic surgeons, Dr. Millard Thaler and Dr. Jenna Wald. For more information, talk to one of our friendly staff members at Saguaro Dermatology today.
Saguaro Dermatology Reviews
Itaro Elaisa



"I totally recommend this place to anyone who's looking for a dermatologist who's professional, informative, respectful and very helpful. They are quick to solve your problems and get you home."

Wendy L.

I had an awesome experience with Dr Hamann and staff. I was very comfortable and i was able to have all my questions answered without feeling rushed. The staff was courteous and welcoming.
Kristin U



"Dr Dathan and the team were very helpful, kind and knowledgeable. Plus, there was no wait time so I was able to get back to work faster than expected. I would highly recommend."

Robert P.

Staff was friendly, & on time. office is super clean!! Doctor was awesome, felt like a family member taking care of me.

Sally S.



"Very friendly and professional. I had a great experience, Dr. Hamann was very good at answering my questions and concerns. I will certainly come back for another visit."

Amanda C.

Great doctor and friendly, professional staff. The doctor spends time listening and answering questions, something rare to find anymore. The office is beautiful and very clean. I love all the artwork with saguaros.

Kylin L.



"The office was recently renovated–it is a beautiful, clean, and calm environment. I would highly recommend this practice for anyone who is looking for a general dermatologist."

L

Dr. Hamann is very knowledgeable, nice, and professional. You can tell that he truly cares about his patients by the way he operates. He took the time to listen to all of my concerns then address them with good, well-informed answers.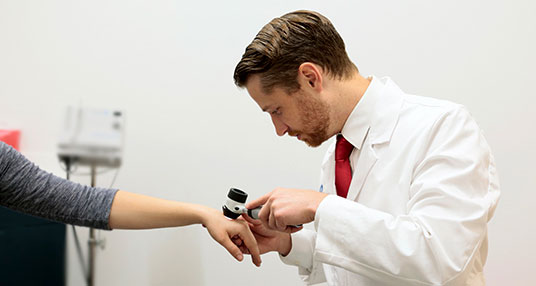 About Saguaro Dermatology
Our comprehensive dermatology clinic is dedicated to providing you with the highest quality of care, innovative practices, helpful resources and state-of-the-art technology to prevent and treat a multitude of skin disorders. Led by Carsten R. Hamann, MD, PhD, Dathan Hamann, MD, FAAD, and Millard Thaler, MD, Mohs Surgeon, our passionate team looks forward to serving you with respect and compassion.