TMJ Treatments with Botox Injections
Do you find yourself constantly massaging your tired, sore jaw throughout the day? If that sounds like you, there's a chance you may have TMJ Disorder. New treatment techniques for TMJ Disorder, also referred to as TMD, and bruxism (clenching and grinding), have made it possible for individuals to effectively reduce their symptoms.
At Saguaro Dermatology in Phoenix and Mesa, Arizona, we provide pain relief treatment using Botox injections for patients with TMJ, bruxism and other TMDs. If you're wanting to alleviate unwanted jaw pain and/or other TMJ symptoms, such as headaches, call one of our offices to book an appointment today.
According to John Hopkins Medicine, temporomandibular disorders (TMDs) are a group of conditions involving the temporomandibular jaw joint (TMJ) and the jaw muscles. Of these conditions, involvement of the jaw muscles is the most common problem. Although the exact cause is not known, stress — and the teeth grinding/clenching habits that may accompany it — can be essential factors.
You might have TMJ or another TMD if you experience any of the following symptoms:
Jaw discomfort and/or pain
Headaches
Ear aches
Clicking or popping of the jaw
Clenching or grinding teeth
Teeth sensitivity and more
If left untreated, TMJ can often worsen over time, especially during times of stress and anxiety. If you are feeling discomfort in your jaw or any other related symptoms, be sure to talk with your dentist. Your dentist can refer you to Saguaro Dermatology for treatment.
Traditional TMJ Treatments
There are several options to treat TMJ and other TMDs depending on your specific case and preference. A common, traditional treatment would be using an oral appliance, known as an anterior bite plate, or a mouthguard. Some other treatment options include medication to relieve pain, resting the jaw, physical therapy, surgery and more.
In lieu of traditional TMJ treatments, using Botox injections for jaw clenching has also become an option to help treat the condition.
Botox is the most common brand name for Botulinum toxin type A. Botulinum toxin injections are an FDA-approved neuromodulator treatment for lines and wrinkles that form in the upper face area. Botox works by blocking the nerve signals to the muscle in which it was injected. Without a signal, the muscle is not able to contract, resulting in diminished unwanted facial wrinkles. Please visit our Botox page for additional information on how this treatment can be utilized as an effective, non-surgical aesthetic enhancement option.
Though well-known for the ability to minimize signs of aging, Botox injections are also known to successfully relieve a variety of TMJ symptoms and bruxism for many patients in the Phoenix and Mesa area. When used to treat TMJ, Botox relaxes your jaw and surrounding muscles, preventing jaw clenching and teeth grinding throughout the day. Not only can Botox injections relieve jaw pain, but they can also reduce the effects of TMJ headaches and other related pain or discomfort.
Everyone's anatomy is different, as well as their TMJ case. There are two areas where Botox injections can be administered to help relieve symptoms:
Masseter – the muscle that runs through the rear part of the cheek from the temporal bone to the lower jaw on each side and closes the jaw in chewing.
Temporalis – the fan-shaped muscle that runs from the side of the skull to the back of the lower jaw and is involved in closing the mouth and chewing.
One of our doctors at Saguaro Dermatology in Phoenix or Mesa will ask you to clench your jaw in order to identify the points and then relax for the Botox insertion. They will then precisely inject the solution into the targeted muscles with a fine needle.
How many units of Botox will I need for my TMJ?
Depending on how big your masseter and/or temporalis muscles are, as well as your specific needs, anywhere between 15 and 25 units of Botox will be used per side. Once the injections are administered, it will take between 2 and 3 weeks to be effective.
How long does Botox for TMJ last and how frequently would I need treatment?
For most patients in the Phoenix and Mesa area, the results from Botox injections for TMJ last 4 to 6 months. After that time, the effects of the Botox injections will begin to fade, which is why follow-up injections can help maintain results. It has been found that with subsequent treatments over time, many patients need less of the solution and begin to experience longer-lasting results. This is because the muscles are being re-conditioned to reduce overactivity.
Botox of TMJ Side Effects
Using Botox injections to treat TMJ results in very minimal side effects. Most patients report normal function of the treated muscles and are unanimously satisfied with the results.
As with any type of injection, it is possible that some slight bruising might occur at the injection site.
If you've never received Botox before, you should expect some sensation; it will feel slightly heavy in the injection areas and you might feel a bit off. And any sensation you feel after means it's working.
If you require numbing or sedation, our doctors at Saguaro Dermatology in Phoenix or Mesa will be happy to discuss your options, but most patients are pleasantly surprised to experience no pain. There is no recovery period after receiving this treatment and most patients return to their regular routine right away.
How much does botox for TMJ cost?
At Saguaro Dermatology in Phoenix and Mesa, we charge a $750 flat fee for Botox injections for TMJ. Our team is happy to discuss the procedure, price and payment options with you at any time. Please feel free to contact one of our offices.
Will insurance cover botox for TMJ?
In most cases, Botox for TMJ or bruxism is usually not covered by insurance. It is always a good idea to check with your insurance company before receiving treatment to understand the financial responsibility.
Our Approach and Expertise
Although used cosmetically, Botox injection is a medical dermatology treatment and should be performed by an experienced dermatologist or plastic surgeon. Our board-certified dermatologist and professional staff will know the specifics of your health history and treatment and will be able to respond to any concerns you have. Treatments provided by Saguaro Dermatology are always customized to an individual patient's needs, lifestyle, and other circumstances.
Saguaro Dermatology Reviews
Itaro Elaisa

"I totally recommend this place to anyone who's looking for a dermatologist who's professional, informative, respectful and very helpful. They are quick to solve your problems and get you home."

Wendy L.

I had an awesome experience with Dr Hamann and staff. I was very comfortable and i was able to have all my questions answered without feeling rushed. The staff was courteous and welcoming.
Kristin U

"Dr Dathan and the team were very helpful, kind and knowledgeable. Plus, there was no wait time so I was able to get back to work faster than expected. I would highly recommend."

Robert P.

Staff was friendly, & on time. office is super clean!! Doctor was awesome, felt like a family member taking care of me.

Sally S.

"Very friendly and professional. I had a great experience, Dr. Hamann was very good at answering my questions and concerns. I will certainly come back for another visit."

Amanda C.

Great doctor and friendly, professional staff. The doctor spends time listening and answering questions, something rare to find anymore. The office is beautiful and very clean. I love all the artwork with saguaros.

Kylin L.

"The office was recently renovated–it is a beautiful, clean, and calm environment. I would highly recommend this practice for anyone who is looking for a general dermatologist."

L

Dr. Hamann is very knowledgeable, nice, and professional. You can tell that he truly cares about his patients by the way he operates. He took the time to listen to all of my concerns then address them with good, well-informed answers.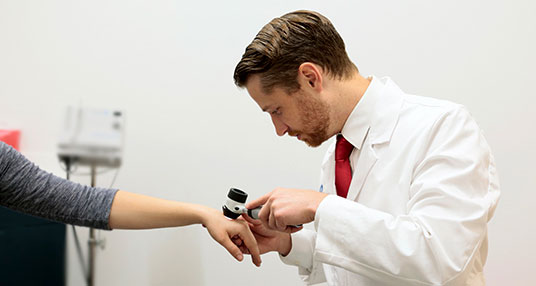 About Saguaro Dermatology
Our comprehensive dermatology clinic is dedicated to providing you with the highest quality of care, innovative practices, helpful resources and state-of-the-art technology to prevent and treat a multitude of skin disorders. Led by Carsten R. Hamann, MD, PhD, Dathan Hamann, MD, FAAD, and Millard Thaler, MD, Mohs Surgeon, our passionate team looks forward to serving you with respect and compassion.