The Only Cream You'll Ever Need
When it comes to skin creams, hydration is the key! This ultra-nourishing cream assists the skin to attract and retain moisture. It is effective for dry, damaged, and dehydrated skin, as well as an everyday moisturizer. It is great to assist those with skin that is showing the signs of aging. This gentle nutrient-rich cream will leave your skin feeling smooth and replenished. The key to this cream is its star ingredients: Hyaluronic Acid, Copper Ferment, Niacinamide, Vitamin A (Retinyl Palmitate), Vitamin E (Tocopherol) and Avocado and Safflower Seed Oils. The Hyaluronic Acid starts by attracting and locking water into the skin. This powerful ingredient can retain up to 1000 times its weight in water. The Copper Ferment is a nutrient-rich antioxidant that strengthens the skin's support structure. The Vitamin A helps to regulate, revitalize and promote bright and even tones. Niacinamide (Vitamin B3) is calming, hydrating and conditioning to minimize redness and discolorations. The Avocado Oil and Safflower Oil are rich in Essential Fatty Acids that condition dry skin.
Assists the skin to attract and retain moisture without a heavy feel
Provides a powerful boost of antioxidants including CoQ10 to the skin
Appropriate for all skin types as it hydrates and soothes dry/mature skin as well as helps to purify and balance oily skin from ingredients rich in linoleic, thioctic (alpha lipoic) and amino acids
When to Apply
Apply the moisturizer daily as part of a healthy skin regimen. This moisturizer can be used on alternating nights when using a prescription medication.
Where to Apply
Apply the moisturizer daily as part of a healthy skin regimen. This moisturizer can be used on alternating nights when using a prescription medication.
How to Apply
As a nutrient-rich cream, apply small amounts to a fresh, clean face attract and retain moisture within the skin.
Key Ingredients
Organic Safflower Seed Oil an emollient rich in Linoleic Acid for hydrated, healthy skin.
Niacinamide 2% conditioning vitamin B3 provides hydrating, calming, and brightening benefits.
Antioxidants Retinyl Palmitate (Vitamin A), Tocopherol (Vitamin E), Ubiquinone (CoQ10), Copper Ferment.
Essential Fatty Acids and Amino Acids purifying and balancing benefits from Avocado Oil, Grape Seed Oil, Carnitine, and Thioctic Acid.
Full Ingredients
Water (Aqua), Carthamus Tinctorius Seed Oil, Cyclopentasiloxane, Cetearyl Alcohol, Polysorbate 60, Niacinamide, Dimethicone, Sodium Hyaluronate, Retinyl Palmitate, Tocopherol, Carnitine, Glycerin, Chamomilla Recutita (Matricaria) Flower Extract, Citrus Aurantium Dulcis (Orange) Flower Extract, Salvia Officinalis (Sage) Leaf Extract, Vitis Vinifera (Grape) Seed Oil, Persea Gratissima (Avocado) Oil, Glycine Soja (Soybean) Oil, Saccharomyces/Copper Ferment, Thioctic Acid, Ubiquinone, Phenoxyethanol, Ethylhexylglycerin, Fragrance, Yellow 5 (CI 19140).
Saguaro Dermatology Reviews
Itaro Elaisa



"I totally recommend this place to anyone who's looking for a dermatologist who's professional, informative, respectful and very helpful. They are quick to solve your problems and get you home."

Wendy L.

I had an awesome experience with Dr Hamann and staff. I was very comfortable and i was able to have all my questions answered without feeling rushed. The staff was courteous and welcoming.
Kristin U



"Dr Dathan and the team were very helpful, kind and knowledgeable. Plus, there was no wait time so I was able to get back to work faster than expected. I would highly recommend."

Robert P.

Staff was friendly, & on time. office is super clean!! Doctor was awesome, felt like a family member taking care of me.

Sally S.



"Very friendly and professional. I had a great experience, Dr. Hamann was very good at answering my questions and concerns. I will certainly come back for another visit."

Amanda C.

Great doctor and friendly, professional staff. The doctor spends time listening and answering questions, something rare to find anymore. The office is beautiful and very clean. I love all the artwork with saguaros.

Kylin L.



"The office was recently renovated–it is a beautiful, clean, and calm environment. I would highly recommend this practice for anyone who is looking for a general dermatologist."

L

Dr. Hamann is very knowledgeable, nice, and professional. You can tell that he truly cares about his patients by the way he operates. He took the time to listen to all of my concerns then address them with good, well-informed answers.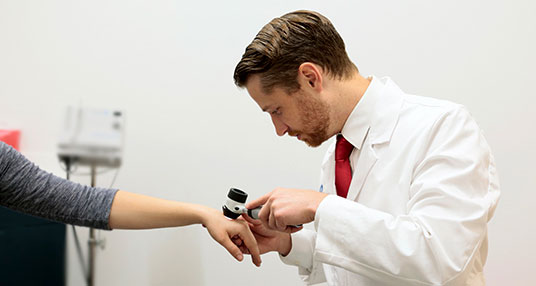 About Saguaro Dermatology
Our comprehensive dermatology clinic is dedicated to providing you with the highest quality of care, innovative practices, helpful resources and state-of-the-art technology to prevent and treat a multitude of skin disorders. Led by Carsten R. Hamann, MD, PhD, Dathan Hamann, MD, FAAD, and Millard Thaler, MD, Mohs Surgeon, our passionate team looks forward to serving you with respect and compassion.