Saguaro Dermatology is excited to welcome Dr. Michael McBride to our team of excellent physicians. Dr. McBride may be a familiar face to many as he served part of his Residency with Saguaro Dermatology for the past year. Dr McBride will see patients at our Ahwatukee location.
Dr. McBride, who hails from Cleveland, Ohio, is a graduate of The Ohio State University and completed his medical school at Ohio University, in Athens, Ohio. He first met Drs. Dathan and Carsten Hamann while completing his Dermatology Residency at Honor Health as they both serve as faculty for the residency program.
Dr. Michael McBride says:
"I am passionate about working with patients to find a solution for their skin health that works for their lifestyle. I enjoy both cosmetic procedures and complex medical dermatology."
We did a quick interview with Dr. McBride so that you could get to know him a little better:
Saguaro Dermatology: What led you to choose medicine, and then, Dermatology, specifically?
Dr. McBride: My mother and grandfather were both physicians and owned a private medical office together. This office was across the street from my middle school, and after school, my three siblings and I would wait for my mother in her office. Her love and passion for her patients sparked my curiosity and I was naturally drawn to a career in medicine from a young age. I was further influenced by my childhood Dermatologist and became involved with research and patient care.
Saguaro Dermatology: What was the most interesting rotation you experienced in Med School?
Dr. McBride: My palliative and hospice rotation. It was a completely different approach to medicine than I had experienced to date, as it focused on the patient's end of life care, at the most vulnerable time of their life. It was during this rotation that I recognized the significance and importance of my work. I continued on in my training with a different viewpoint on patient care.
Saguaro Dermatology: What path led you to Saguaro Derm?
Dr. McBride: Drs. Carsten and Dathan Hamann joined the Dermatology Residency Program at HonorHealth as faculty in July 2022. I had known of Dr. Dathan Hamann from his virtual online Board Review courses that he holds for residents throughout the country. After working with them at Saguaro Derm, I recognized how they truly cared for their patients and desired to provide exceptional care, and was honored to be invited to join their team.
Saguaro Dermatology: What challenges you most as a Dermatologist?
Dr. McBride: It can be a challenge to have medications approved for patients who truly need them. Most of the newer medications can be very expensive. If the medications are not approved, it can be impossible for patients to afford them. This is frustrating for my patients and myself.
Saguaro Dermatology: What might people be surprised to learn about being a doctor?
Dr. McBride: We are patients, too! Physicians can relate to their patients in so many different ways. This helps us understand what patients are feeling and experiencing, but also, what they need for good care. I enjoy having honest and open dialogues with my patients, to put them at ease and to help me better understand how to best treat them.
Saguaro Dermatology: What are some ways you enjoy relaxing?
Dr. McBride: Coming from the Midwest, I never take the sunshine for granted! I love spending time outside, perhaps with a game of golf and just staying active alongside my girlfriend, Megan, and our mini goldendoodle, Dolly. I am still loyal to my Cleveland teams, as frustrating as that can be at times. And definitely root for The Ohio State Buckeyes.
Saguaro Dermatology: Growing up in Cleveland, you must have gone to Cedar Point Amusement Park, with its 18 World Class roller coasters. So, which is your favorite?
Dr. McBride: I actually had a season pass to Cedar Point each summer. It is indeed the "Roller Coaster Capital of the World"! After conquering the "Dragster Roller Coaster, the World's Tallest Roller Coaster", I discovered the most thriller ride in the park: the PowerTower. This ride slowly brings you to the top of the tower at 299 feet, where you see incredible views of the whole park and beyond. At the top, the ride pauses …and then suddenly drops you back down to the ground.
Saguaro Dermatology: Thank you, Dr. McBride! We look forward to seeing you at Saguaro Dermatology in September.
Saguaro Dermatology Reviews
Itaro Elaisa



"I totally recommend this place to anyone who's looking for a dermatologist who's professional, informative, respectful and very helpful. They are quick to solve your problems and get you home."

Wendy L.

I had an awesome experience with Dr Hamann and staff. I was very comfortable and i was able to have all my questions answered without feeling rushed. The staff was courteous and welcoming.
Kristin U



"Dr Dathan and the team were very helpful, kind and knowledgeable. Plus, there was no wait time so I was able to get back to work faster than expected. I would highly recommend."

Robert P.

Staff was friendly, & on time. office is super clean!! Doctor was awesome, felt like a family member taking care of me.

Sally S.



"Very friendly and professional. I had a great experience, Dr. Hamann was very good at answering my questions and concerns. I will certainly come back for another visit."

Amanda C.

Great doctor and friendly, professional staff. The doctor spends time listening and answering questions, something rare to find anymore. The office is beautiful and very clean. I love all the artwork with saguaros.

Kylin L.



"The office was recently renovated–it is a beautiful, clean, and calm environment. I would highly recommend this practice for anyone who is looking for a general dermatologist."

L

Dr. Hamann is very knowledgeable, nice, and professional. You can tell that he truly cares about his patients by the way he operates. He took the time to listen to all of my concerns then address them with good, well-informed answers.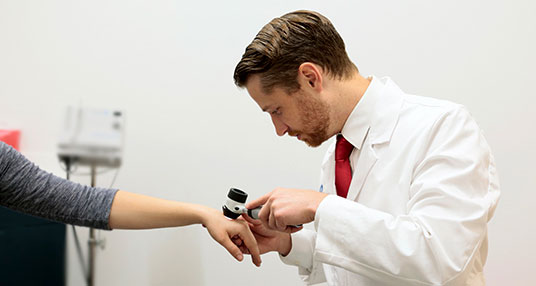 About Saguaro Dermatology
Our comprehensive dermatology clinic is dedicated to providing you with the highest quality of care, innovative practices, helpful resources and state-of-the-art technology to prevent and treat a multitude of skin disorders. Led by Carsten R. Hamann, MD, PhD, Dathan Hamann, MD, FAAD, and Millard Thaler, MD, Mohs Surgeon, our passionate team looks forward to serving you with respect and compassion.