7 Sun Protection Tips for Phoenix Golfers
Arizona is known as one of the most popular places to play golf. In the Greater Phoenix area alone, more than 200 golf courses can be found in Phoenix, Scottsdale, Chandler, Ahwatukee and other cities. Golfers come from all over the country and the world to tee off at one of the many beautiful courses Arizona has to offer.
Another thing Arizona is known for? Sun, heat – and lots of it! It's very important, especially during the hottest summer months, to be fully prepared for your round of golf. This includes not just having the right gear, but also having the proper tools to protect your skin from the health risks that come with sun exposure.
According to the Skin Cancer Foundation, those who regularly golf are at a higher risk for skin cancer. Thankfully, there are a few simple things you can do to protect your skin without sacrificing your game.
1. Plan Your Tee Time Accordingly
Picking a good tee time is very important when it comes to sun protection on the golf course. Whenever possible, it's best to choose a tee time in the early morning or late afternoon and evening hours when the sun is less intense. Even if they are not the cheapest tee times, your skin will thank you later. Another good idea is to plan your golf day or trip in advance. That way you can take a good look at the forecast and pick the coolest day to play.
2. Wear Protective Clothing
When it comes to sun protection on the golf course, clothing is your first line of defense so it's important to dress as cool and protective as you can before you hit the green. Long sleeves and pants are going to provide the greatest coverage but some people do not find them to be very practical to wear in the Arizona heat. Arm and leg sleeves are an option that aren't as hot.
Try to avoid wearing black and other dark colors during the hotter months. Lightweight, loose and breathable materials are great during the summer months to keep you cool and protected. These days there are several companies that make sun protective clothing designed for just the golf course so it's easy to find the right pieces.
Another important thing to think of when choosing what to wear – eye protection! Just as most of your favorite professional golfers do from time to time, make sure to wear sunglasses. These not only protect your eyes and the sensitive skin around your eyes from the sun, but many golfers say they improve visibility and reduce glare.
One spot you might not think to cover, your non golf-gloved hand. The hand that you don't wear a glove on will be exposed to the sun more. This can cause your hands to look different over time if you frequently play golf and expose that hand to the sun each time. Try wearing a glove on the other hand or be diligent to apply and reapply sunscreen to your hands.
3. Wear an Appropriate Hat
Hats are a must for sun protection. The best hat for maximum protection is a wide-brimmed hat, but golfers may find that is not a practical option for the golf course. Baseball hats are a great option that will stay in place and provide good protection for the face and eyes. You will want to still apply sunscreen to all areas, but especially those areas not covered like the ears and neck. It's also a good idea to use a neck shield with your hat.
4. Wear Sunscreen and Reapply Often
This tip probably seems like a no brainer but is often forgotten or not taken seriously enough, especially the reapply part. When choosing a sunscreen, the most important thing to look for is Broad Spectrum. And since playing golf requires spending a significant amount of time outside, you'll want to wear a water-resistant, SPF 30 or higher sunscreen. Saguaro Dermatology offers a broad-spectrum SPF 55 sunscreen.
Make sure to apply your sunscreen before heading to the golf course, that way you are less likely to forget to put it on. You'll want to cover key areas such as the face, ears, neck, chest, scalp, forearms and hands if they are exposed and even the lips. They do make lip balms with SPF. And remember to reapply every two hours, or more often if you are sweating heavily. This is key!
Whenever possible, find some shade. This will not only give your skin a break from the sun exposure but also keep you cooler. So anytime you can take a break from direct sunlight do so. Whether under a tree, in the golf cart or under another structure. Bringing an umbrella or a shade for the golf cart is also a good way to make sure you can make shade for yourself for better protection from the sun.
This one also might seem like a no brainer but some golfers like to walk. If that's you, you may want to reconsider walking during the hottest times of the year and opt to ride in a golf cart instead. Riding in a golf cart will provide shade so that you are not exposed to the sun during your entire time on the golf course. It will also keep you cooler and your energy up. You can also store extra things like sunscreen, liquids, snacks, gear and more without weighing down your golf bag.
A great way to stay protected and play well while out in the heat and sun is to stay hydrated. Make sure to drink plenty of water and electrolyte-rich drinks before, during and after the round. This will help you stay energized so that you play better and your skin will stay hydrated as well.
Unfortunately, sunburns happen. Severe sunburns can be painful, and the associated inflammation can give you fevers, chills, and other flu-like symptoms. Keep aloe vera on hand and stay out of the sun until you are healed. If you get a bad sunburn, consider discussing it with your Phoenix dermatologist, and ask if there are any internal factors or medicines that may make your skin more sensitive to the sun.
As mentioned before, those who regularly golf are at a higher risk for skin cancer. Anyone who has had sun exposure is at a potential risk of developing skin cancer, which is why yearly skin cancer screenings are so important. In fact, the Skin Cancer Foundation recommends that all adults have a skin cancer screening at least once a year and more frequently for those who have had skin cancer before or are at higher risk of getting skin cancer. Be sure to self-monitor by watching for new or changing moles.
Need a board-certified dermatologist? Book an appointment with Saguaro Dermatology | Your Phoenix and Mesa Dermatologist today to schedule your skin cancer screening.
Saguaro Dermatology Reviews
Itaro Elaisa



"I totally recommend this place to anyone who's looking for a dermatologist who's professional, informative, respectful and very helpful. They are quick to solve your problems and get you home."

Wendy L.

I had an awesome experience with Dr Hamann and staff. I was very comfortable and i was able to have all my questions answered without feeling rushed. The staff was courteous and welcoming.
Kristin U



"Dr Dathan and the team were very helpful, kind and knowledgeable. Plus, there was no wait time so I was able to get back to work faster than expected. I would highly recommend."

Robert P.

Staff was friendly, & on time. office is super clean!! Doctor was awesome, felt like a family member taking care of me.

Sally S.



"Very friendly and professional. I had a great experience, Dr. Hamann was very good at answering my questions and concerns. I will certainly come back for another visit."

Amanda C.

Great doctor and friendly, professional staff. The doctor spends time listening and answering questions, something rare to find anymore. The office is beautiful and very clean. I love all the artwork with saguaros.

Kylin L.



"The office was recently renovated–it is a beautiful, clean, and calm environment. I would highly recommend this practice for anyone who is looking for a general dermatologist."

L

Dr. Hamann is very knowledgeable, nice, and professional. You can tell that he truly cares about his patients by the way he operates. He took the time to listen to all of my concerns then address them with good, well-informed answers.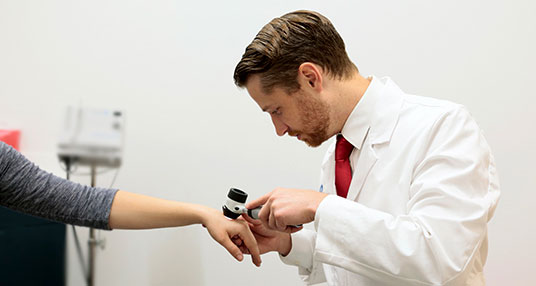 About Saguaro Dermatology
Our comprehensive dermatology clinic is dedicated to providing you with the highest quality of care, innovative practices, helpful resources and state-of-the-art technology to prevent and treat a multitude of skin disorders. Led by Carsten R. Hamann, MD, PhD, Dathan Hamann, MD, FAAD, and Millard Thaler, MD, Mohs Surgeon, our passionate team looks forward to serving you with respect and compassion.