Microdermabrasion Exfoliating Scrub
When it comes to dermabrasion, the scrubbing catalyst and essential ingredients have a significant impact on the level of effectiveness. This Microdermabrasion Scrub is a powerful exfoliator that uses medical grade aluminum oxide crystals to scour away dead skin with stunning results. Aluminum Oxide Crystals are among the best-known exfoliation mediums. Their size, shape, and molecular structure make for superb quality mechanical exfoliation for instant gratification and smoothing. With the addition of Red Tea Extract, Seaweed Extract and Hyaluronic Acid, this wonderful scrub helps balance moisture, while delivering skin nourishing anti-oxidants and mineral goodness.
Appropriate for most skin types for face and body exfoliation
Exceptional exfoliation for dead skin cell removal
Gently lifts dirt and excess oils
Exposes vibrant new skin
Helps to reduce the appearance of wrinkles and fine lines
When to Apply
Apply when you desire a gentle mechanical exfoliation to improve rough texture on arms and legs, makeup and spray tan applications, and scalp or hair conditions.
Where to Apply
Use alone on damp skin or combine with your favorite cleanser, body wash, or shampoo.
How to Apply
Wet skin with water and apply small amount of product into the palm of hand. Mix with water or cleanser and work onto skin. Avoid eye area. Rinse with lukewarm water. Discontinue use if redness or irritation occurs. Do not ingest.
Key Ingredients
Aluminum Oxide Crystals among the best-known exfoliation mediums for their size, shape, and molecular structure.
Red Tea Extract and Seaweed Extract deliver skin nourishing antioxidants and mineral goodness.
Hyaluronic Acid just a touch of hydration added in this formula. After cleansing and polishing the skin it is recommended to follow with the application of Hyaluronic Acid Serum for additional moisturization.
Full Ingredients
*Alumina (Aluminum Oxide), Glycerin, Propylene Glycol, Sodium Laureth Sulfate, Water (Aqua), Lauryl Glucoside, Cocamidopropyl Betaine, Aspalathus Linearis (Red Tea) Extract, Chondrus Crispus (Seaweed) Extract, Sodium Hyaluronate, Eriobotrya Japonica Leaf Extract, Citric Acid, Phenoxyethanol, Methylchloroisothiazolinone, Methylisothiazolinone, **Fragrance. *Alumina complies to all rules under TSCA **Natural Fragrance components of sweet citrus.
Saguaro Dermatology Reviews
Itaro Elaisa



"I totally recommend this place to anyone who's looking for a dermatologist who's professional, informative, respectful and very helpful. They are quick to solve your problems and get you home."

Wendy L.

I had an awesome experience with Dr Hamann and staff. I was very comfortable and i was able to have all my questions answered without feeling rushed. The staff was courteous and welcoming.
Kristin U



"Dr Dathan and the team were very helpful, kind and knowledgeable. Plus, there was no wait time so I was able to get back to work faster than expected. I would highly recommend."

Robert P.

Staff was friendly, & on time. office is super clean!! Doctor was awesome, felt like a family member taking care of me.

Sally S.



"Very friendly and professional. I had a great experience, Dr. Hamann was very good at answering my questions and concerns. I will certainly come back for another visit."

Amanda C.

Great doctor and friendly, professional staff. The doctor spends time listening and answering questions, something rare to find anymore. The office is beautiful and very clean. I love all the artwork with saguaros.

Kylin L.



"The office was recently renovated–it is a beautiful, clean, and calm environment. I would highly recommend this practice for anyone who is looking for a general dermatologist."

L

Dr. Hamann is very knowledgeable, nice, and professional. You can tell that he truly cares about his patients by the way he operates. He took the time to listen to all of my concerns then address them with good, well-informed answers.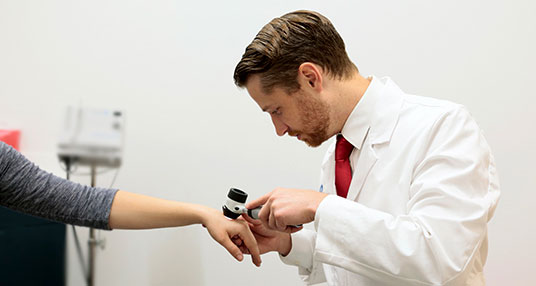 About Saguaro Dermatology
Our comprehensive dermatology clinic is dedicated to providing you with the highest quality of care, innovative practices, helpful resources and state-of-the-art technology to prevent and treat a multitude of skin disorders. Led by Carsten R. Hamann, MD, PhD, Dathan Hamann, MD, FAAD, and Millard Thaler, MD, Mohs Surgeon, our passionate team looks forward to serving you with respect and compassion.