Alopecia Topical Solution
This is a custom-formulated preparation designed to better meet your individual needs. This practice's desire is to help you achieve better outcomes. Its active ingredients will work together toward this goal. Finasteride is an FDA approved drug indicated for benign prostate hypertrophy. Finasteride is also used topically to treat hair loss (androgenic alopecia). Treatment provides improvement in hair loss and effectiveness only persists as long as the drug is taken. Minoxidil is an anti-hypertensive medication when taken orally. Minoxidil is widely used for the treatment of hair loss in topical form. It is effective in both the prevention of loss and in hair re-growth in males and females. Minoxidil can be used indefinitely for this purpose.
Clinically shown to improve hair growth and quality
Reduces shedding
Visible thickness and scalp coverage
How to Apply
Cleanse hair and scalp and pat dry prior to application of solution. Using the dropper, apply
several drops (one mL) of the solution twice a day directly onto the scalp in the hair loss area, or as directed by your provider. If
using at night, allow solution to dry on your scalp prior to placing your head on your pillow to prevent the spread of the solution
from your pillow to other parts of your face.
Full Ingredients
Minoxidil 7%, Finasteride 0.1%, Propylene Glycol, Lactic Acid, Ethyl Alcohol
Saguaro Dermatology Reviews
Itaro Elaisa



"I totally recommend this place to anyone who's looking for a dermatologist who's professional, informative, respectful and very helpful. They are quick to solve your problems and get you home."

Wendy L.

I had an awesome experience with Dr Hamann and staff. I was very comfortable and i was able to have all my questions answered without feeling rushed. The staff was courteous and welcoming.
Kristin U



"Dr Dathan and the team were very helpful, kind and knowledgeable. Plus, there was no wait time so I was able to get back to work faster than expected. I would highly recommend."

Robert P.

Staff was friendly, & on time. office is super clean!! Doctor was awesome, felt like a family member taking care of me.

Sally S.



"Very friendly and professional. I had a great experience, Dr. Hamann was very good at answering my questions and concerns. I will certainly come back for another visit."

Amanda C.

Great doctor and friendly, professional staff. The doctor spends time listening and answering questions, something rare to find anymore. The office is beautiful and very clean. I love all the artwork with saguaros.

Kylin L.



"The office was recently renovated–it is a beautiful, clean, and calm environment. I would highly recommend this practice for anyone who is looking for a general dermatologist."

L

Dr. Hamann is very knowledgeable, nice, and professional. You can tell that he truly cares about his patients by the way he operates. He took the time to listen to all of my concerns then address them with good, well-informed answers.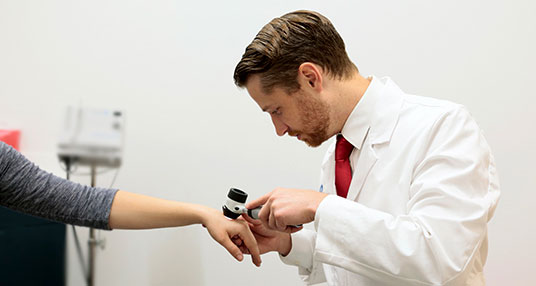 About Saguaro Dermatology
Our comprehensive dermatology clinic is dedicated to providing you with the highest quality of care, innovative practices, helpful resources and state-of-the-art technology to prevent and treat a multitude of skin disorders. Led by Carsten R. Hamann, MD, PhD, Dathan Hamann, MD, FAAD, and Millard Thaler, MD, Mohs Surgeon, our passionate team looks forward to serving you with respect and compassion.