Sclerotherapy has been used to eliminate spider veins since the early twentieth century (1). It involves the injection of a sclerosing solution directly into the affected veins. This solution injures the vein wall and causes the vein itself to break down and disperse into the circulation.
Varicose veins and spider veins affect both men and women. In the United States, roughly 9 percent of men and 13 percent of women have varicose veins, and spider veins have been reported in 29 percent of men and 41 percent of women (2). Sclerotherapy can greatly improve the appearance of the affected part of the body and decrease the pain and discomfort associated with these vein conditions.
What Can I Expect During Sclerotherapy?
Sclerotherapy is an out-patient procedure performed in the doctor's office by a dermatologist or surgeon. Depending on which veins are affected, your doctor may have you sit or lie down with your legs slightly elevated. After cleansing the area with alcohol, the doctor will then use a syringe with a fine needle to slowly inject the solution into the vein(s). After removing the needle, the doctor will apply compression to the injection site with cotton and tape. (2) The doctor may also massage the area to ensure the solution disperses well throughout the vein. You will be able to move freely and walk around afterward.
How Long Does It Take to See the Results of Sclerotherapy?
In general, spider veins respond in 3-6 weeks, and larger veins respond in 3-4 months. If the veins respond to the treatment, they will not reappear. However, new veins may appear at the same rate as before, so you may need to return for further injections. Note that individual results will depend on the size and number of vessels being treated and also on the patient's willingness to comply with the instructions regarding use of compression bandages/hose and limits on exertion. (1)
Final Word on Sclerotherapy
The benefits of sclerotherapy are many and the risks few. Sclerotherapy can greatly improve the cosmetic appearance of the veins and ease the pain, burning, cramps, and "restless leg" syndrome that many patients describe. With the recent expansion of Saguaro Dermatology to our Mesa office, we are pleased to offer the services of an experienced dermatologic surgeon who can perform sclerotherapy. If you are looking for spider vein or varicose vein treatment in Phoenix or Mesa Arizona, talk to one of our friendly staff members at Saguaro Dermatology today.
Sclerotherapy
Special
$450
Sclerotherapy
Special
$450
Book Your Appointment Today
*This service is only available at our Mesa location.
Book Your Appointment Today
*This service is only available at our Mesa location.
Saguaro Dermatology Reviews
Itaro Elaisa



"I totally recommend this place to anyone who's looking for a dermatologist who's professional, informative, respectful and very helpful. They are quick to solve your problems and get you home."

Wendy L.

I had an awesome experience with Dr Hamann and staff. I was very comfortable and i was able to have all my questions answered without feeling rushed. The staff was courteous and welcoming.
Kristin U



"Dr Dathan and the team were very helpful, kind and knowledgeable. Plus, there was no wait time so I was able to get back to work faster than expected. I would highly recommend."

Robert P.

Staff was friendly, & on time. office is super clean!! Doctor was awesome, felt like a family member taking care of me.

Sally S.



"Very friendly and professional. I had a great experience, Dr. Hamann was very good at answering my questions and concerns. I will certainly come back for another visit."

Amanda C.

Great doctor and friendly, professional staff. The doctor spends time listening and answering questions, something rare to find anymore. The office is beautiful and very clean. I love all the artwork with saguaros.

Kylin L.



"The office was recently renovated–it is a beautiful, clean, and calm environment. I would highly recommend this practice for anyone who is looking for a general dermatologist."

L

Dr. Hamann is very knowledgeable, nice, and professional. You can tell that he truly cares about his patients by the way he operates. He took the time to listen to all of my concerns then address them with good, well-informed answers.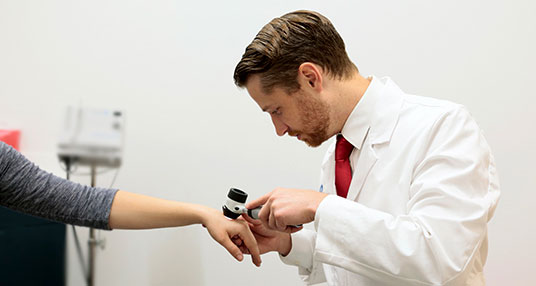 About Saguaro Dermatology
Our comprehensive dermatology clinic is dedicated to providing you with the highest quality of care, innovative practices, helpful resources and state-of-the-art technology to prevent and treat a multitude of skin disorders. Led by Carsten R. Hamann, MD, PhD, Dathan Hamann, MD, FAAD, and Millard Thaler, MD, Mohs Surgeon, our passionate team looks forward to serving you with respect and compassion.