Accutane® is a famous branded version of the generic medicine isotretinoin. Other branded versions include Absorica®, Amnesteem®, Claravis®, Myorisan®, and Zenatane™. Isotretinoin is a form of vitamin A. It was originally approved for the treatment of acne in 1982.
Accutane-style medicines are most famous for treating very severe acne, especially scarring acne. One of the most classic types of severe acne is cystic acne, where the acne spots are large, deep, swollen, painful, and prone to scarring.
In the past, Accutane-style medicine/isotretinoin was generally reserved for only the most severe forms of acne. These days, most dermatologists (including the dermatologists at Saguaro Dermatology) also consider using isotretinoin for patients with moderately severe acne with scarring. Even patients with mild acne may be a candidate for isotretinoin treatment if they have scarring and have failed other reasonable medical treatments.
Accutane works by targeting the sebaceous glands. It essentially slows the production of sebum–the oil secreted by the sebaceous glands–and makes it less sticky, which in turn reduces the chances of pores becoming clogged.
Who is a candidate for Accutane in Phoenix or Mesa, Arizona?
Potential Accutane candidates looking to receive acne treatment are healthy teenagers or adults with severe nodulocystic acne or even mild or moderate acne that hasn't responded to conventional treatments. Essentially, any patient with scarring acne potential can be considered.
Previously, isotretinoin used to be thought of as the last resort medication, but now we are seeing dermatologists use the medication earlier in the acne treatment process. This is due to the growing safety concern for the overuse of antibiotics in acne patients.
If you think you would be a potential candidate for Accutane, please contact the Saguaro Dermatology office to learn more or schedule a consultation.
How much does Accutane cost?
At Saguaro Dermatology in Phoenix and Mesa, Accutane visits are billed out as an office visit. The cost involved will depend on a patient's insurance and pharmacy benefits. For more information, please contact Saguaro Dermatology.
Frequently Asked Questions about Accutane
Our Approach and Expertise
Our board-certified dermatologists and professional staff are dedicated to providing you with the highest quality of care, innovative practices, helpful resources, and state-of-the-art technology to prevent and treat a multitude of skin disorders for patients in the Phoenix and Mesa area. We will know the specifics of your health history and treatment and will be able to respond to any concerns you have. Treatments provided by Saguaro Dermatology are always customized to an individual patient's needs, lifestyle, and priorities. Our physicians are experienced in acne treatment and are ready to help you achieve the results you desire.
Saguaro Dermatology Reviews
Itaro Elaisa

"I totally recommend this place to anyone who's looking for a dermatologist who's professional, informative, respectful and very helpful. They are quick to solve your problems and get you home."

Wendy L.

I had an awesome experience with Dr Hamann and staff. I was very comfortable and i was able to have all my questions answered without feeling rushed. The staff was courteous and welcoming.
Kristin U

"Dr Dathan and the team were very helpful, kind and knowledgeable. Plus, there was no wait time so I was able to get back to work faster than expected. I would highly recommend."

Robert P.

Staff was friendly, & on time. office is super clean!! Doctor was awesome, felt like a family member taking care of me.

Sally S.

"Very friendly and professional. I had a great experience, Dr. Hamann was very good at answering my questions and concerns. I will certainly come back for another visit."

Amanda C.

Great doctor and friendly, professional staff. The doctor spends time listening and answering questions, something rare to find anymore. The office is beautiful and very clean. I love all the artwork with saguaros.

Kylin L.

"The office was recently renovated–it is a beautiful, clean, and calm environment. I would highly recommend this practice for anyone who is looking for a general dermatologist."

L

Dr. Hamann is very knowledgeable, nice, and professional. You can tell that he truly cares about his patients by the way he operates. He took the time to listen to all of my concerns then address them with good, well-informed answers.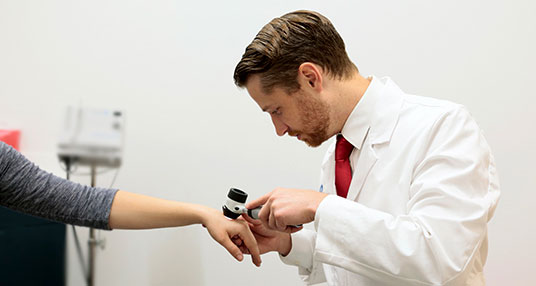 About Saguaro Dermatology
Our comprehensive dermatology clinic is dedicated to providing you with the highest quality of care, innovative practices, helpful resources and state-of-the-art technology to prevent and treat a multitude of skin disorders. Led by Carsten R. Hamann, MD, PhD, Dathan Hamann, MD, FAAD, and Millard Thaler, MD, Mohs Surgeon, our passionate team looks forward to serving you with respect and compassion.