Phoenix Dermatologist Accepting Medicare Insurance
What is Medicare?
Medicare is a federal run healthcare program accessible for Phoenix, Arizona residents who are:
65 and older
Some younger individuals with disabilities
Other special circumstances
Medicare has different parts: Medicare A is free and is sometimes referred to as "hospital insurance," Medicare B which is not free, and is sometimes referred to as "medical insurance," and Medicare D which helps cover the cost of prescription drugs.
Medicare also has two different plans: Original Medicare and Medicare Advantage.
Original Medicare includes Medicare A and Medicare B and will cover much of your health care services and supplies. However, using this plan, you will pay for services as they are received and generally, there is a deductible and about 20% of the remaining cost. Supplemental plans may also be purchased to cover the 20% and the deductible.
Medicare Advantage includes A, B, and D parts and often offers benefits beyond Original Medicare like vision, dental, hearing and more.
To learn more about Medicare, visit: Medicare.gov
Will Medicare cover my dermatology costs in Phoenix, Arizona?
In Phoenix, Arizona, depending on your coverage, Medicare should cover most of your dermatological costs. However, it will not cover any cosmetic services.
For skin cancer screenings, Medicare will cover the cost of your exam by our board-certified dermatologists, Dr. Hamann and Dr. Thaler, if there is a prior concern, or if you have a history of skin cancer. If there are no concerns nor a history, you will have to pay for the skin cancer screening out of pocket.
Does Medicare require a referral for Phoenix dermatological care?
Original Medicare does not require referrals but a Medicare Advantage plan will sometimes require a referral.
Saguaro Dermatology | Phoenix and Mesa Dermatologists accept Medicare
and will work with you and your insurance plan to get your the customized, compassionate care that you deserve.
Call us today or request your appointment below:
Saguaro Dermatology Reviews
Itaro Elaisa

"I totally recommend this place to anyone who's looking for a dermatologist who's professional, informative, respectful and very helpful. They are quick to solve your problems and get you home."

Wendy L.

I had an awesome experience with Dr Hamann and staff. I was very comfortable and i was able to have all my questions answered without feeling rushed. The staff was courteous and welcoming.
Kristin U

"Dr Dathan and the team were very helpful, kind and knowledgeable. Plus, there was no wait time so I was able to get back to work faster than expected. I would highly recommend."

Robert P.

Staff was friendly, & on time. office is super clean!! Doctor was awesome, felt like a family member taking care of me.

Sally S.

"Very friendly and professional. I had a great experience, Dr. Hamann was very good at answering my questions and concerns. I will certainly come back for another visit."

Amanda C.

Great doctor and friendly, professional staff. The doctor spends time listening and answering questions, something rare to find anymore. The office is beautiful and very clean. I love all the artwork with saguaros.

Kylin L.

"The office was recently renovated–it is a beautiful, clean, and calm environment. I would highly recommend this practice for anyone who is looking for a general dermatologist."

L

Dr. Hamann is very knowledgeable, nice, and professional. You can tell that he truly cares about his patients by the way he operates. He took the time to listen to all of my concerns then address them with good, well-informed answers.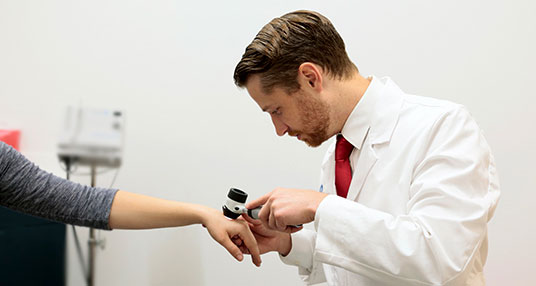 About Saguaro Dermatology
Our comprehensive dermatology clinic is dedicated to providing you with the highest quality of care, innovative practices, helpful resources and state-of-the-art technology to prevent and treat a multitude of skin disorders. Led by Carsten R. Hamann, MD, PhD, Dathan Hamann, MD, FAAD, and Millard Thaler, MD, Mohs Surgeon, our passionate team looks forward to serving you with respect and compassion.