Cystic Acne Treatment in Phoenix, AZ
Cystic acne is one of the most serious forms of acne. Acne is a complex disease characterized by inflammation and clogged pores on skin with lots of oil glands. Most of these pores are clogged with skin that is not shedding properly. While poor hygiene may contribute, it is not often a major factor in acne severity. If you have severe acne, it is very unlikely to be your fault and you should make an appointment with a board-certified dermatologist. The main factors in acne severity include genetics, inflammation, bacteria in your pores, hormones, oil production, medications, and other health factors. When acne gets inflamed a cyst can develop inside your skin. Inflammation of these cysts may cause pain and scarring. Cystic acne can develop on the face, chest, neck, back, and arms.
What does cystic acne look like?
Unlike other types of acne which appear on the surface of your skin, cystic acne develops deeper in your skin. The cysts feel like fluid-filled lumps, more like a boil under the skin surface. Due to the accumulation of debris inside the cyst, it's usually larger than a regular pimple and could be painful to touch. Usually, redness is associated with acne cysts, but sometimes they can also appear as large white bumps.
Where do acne cysts develop?
Acne cysts can develop anywhere on the face and upper body, including the chest, back, and arms. The most common areas to develop cystic acne are the chin, along the jawline, and on the neck. Occasionally acne cysts can develop behind the ears and on the shoulders as well.
Anyone can develop acne, but cystic acne tends to be more common in individuals with oily skin. Cystic acne is common in teens and young adults in their early twenties. Hormones play a major role in developing acne. The natural increase in androgen hormones during puberty (especially in males) can change the condition of the skin, causing clogged pores and acne. In women, hormonal changes during the menstrual cycle, progestin-only birth control pills, pregnancy, and menopause can lead to the development of cystic acne. Also, certain medications containing steroids such as steroids could increase the development of acne. Genetics could play a role in developing cystic acne, so if one of your parents had cystic acne, you have a higher chance of getting it.
How can I prevent cystic acne?
While there is no reliable way to prevent cystic acne, you can take several steps to try to prevent worsening before your dermatology appointment.
Use a mild cleanser to wash away dirt, excess oil, and sweat from your face.
When choosing skin products such as makeup and lotion, try to look for the ones that are labeled non-comedogenic or non-acnegenic. These products will not clog your pores and will reduce the development of cystic acne.
Remove makeup before you go to bed. Makeup can clog the pores and can lead to the development of cystic acne.
Types of treatments in Phoenix and Mesa, Arizona
Over-the-counter acne medications usually don't work for cystic acne. But not to worry, there are multiple treatment options available for cystic acne. Common treatment options include isotretinoin, oral antibiotics, oral contraceptives (only for women), and topical retinoids.
Procedures: steroid shots and small acne surgeries may also be a part of a comprehensive cystic acne treatment plan.
Other medicines: there are a number of other medicines that are used for cystic acne depending on a patient's age, gender, and other medical problems.
Final Word on Cystic Acne
Cystic acne can be a chronic painful skin condition. In addition, severe or untreated cystic acne can affect the way you feel about your appearance, which can even lead to anxiety and depression, especially in young individuals. At Saguaro Dermatology, we consider the whole health of the individual. Our expert staff will listen to all of your concerns and then work with you to develop a treatment plan that works for your lifestyle and budget. Our board-certified dermatologists and our caring and experienced staff are always ready to help you at Saguaro Dermatology, with four convenient locations in Ahwatukee, Central Phoenix, Mesa, and Sun City West.
Saguaro Dermatology Reviews
Itaro Elaisa

"I totally recommend this place to anyone who's looking for a dermatologist who's professional, informative, respectful and very helpful. They are quick to solve your problems and get you home."

Wendy L.

I had an awesome experience with Dr Hamann and staff. I was very comfortable and i was able to have all my questions answered without feeling rushed. The staff was courteous and welcoming.
Kristin U

"Dr Dathan and the team were very helpful, kind and knowledgeable. Plus, there was no wait time so I was able to get back to work faster than expected. I would highly recommend."

Robert P.

Staff was friendly, & on time. office is super clean!! Doctor was awesome, felt like a family member taking care of me.

Sally S.

"Very friendly and professional. I had a great experience, Dr. Hamann was very good at answering my questions and concerns. I will certainly come back for another visit."

Amanda C.

Great doctor and friendly, professional staff. The doctor spends time listening and answering questions, something rare to find anymore. The office is beautiful and very clean. I love all the artwork with saguaros.

Kylin L.

"The office was recently renovated–it is a beautiful, clean, and calm environment. I would highly recommend this practice for anyone who is looking for a general dermatologist."

L

Dr. Hamann is very knowledgeable, nice, and professional. You can tell that he truly cares about his patients by the way he operates. He took the time to listen to all of my concerns then address them with good, well-informed answers.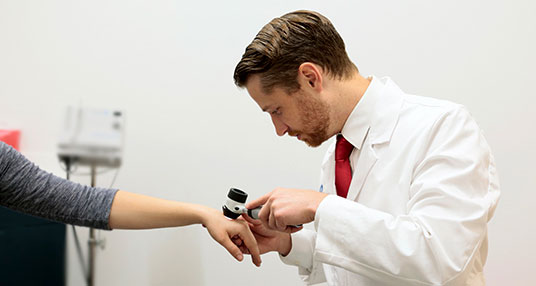 About Saguaro Dermatology
Our comprehensive dermatology clinic is dedicated to providing you with the highest quality of care, innovative practices, helpful resources and state-of-the-art technology to prevent and treat a multitude of skin disorders. Led by Carsten R. Hamann, MD, PhD, Dathan Hamann, MD, FAAD, and Millard Thaler, MD, Mohs Surgeon, our passionate team looks forward to serving you with respect and compassion.