Rosacea is a common skin disease that causes symptoms ranging from facial redness and sensitivity to inflamed bumps, thickening of the skin, and eye irritation. Affecting 10% of the population, rosacea is a relapsing-remitting disorder, which means that the symptoms are sometimes worse (relapse) and at other times improved or absent (remitting). The characteristic flushing associated with rosacea is often accompanied by pain, burning, and increased irritability to topical products (1). The condition can also seriously impact the quality of life of those who have it (2).
There are 4 main subtypes of rosacea (1):
Erythematotelangiectatic rosacea (ETR; erythmato = redness; telangiectatic = spidery veins): This type of rosacea is characterized by prolonged flushing in the center of the face. It is often triggered by emotional stress, hot drinks, spicy foods, exercise, and changes in temperature. Patients with ETR rosacea are more prone to severe itching and burning, have drier skin than patients with other subtypes, and become more easily irritated by products used on the face.
Papulopustular rosacea (papular = tiny, raised bump resembling acne; pustular = pus-filled): This form of the condition primarily affects middle-aged women and is indicated by redness and pinpoint bumps in the central area of the face. Flushing may also occur but to a lesser extent than in ETR rosacea.
Phymatous rosacea (phymata = thickening of the skin): This subtype typically occurs together with the usual redness and bumps but is more pronounced. It commonly occurs on the surface of the nose but may also affect the chin, forehead, ears, or eyelids. The swollen, red, bulbous appearance of this form of rosacea makes it more disfiguring and thus distressing to those who have it. It often requires surgical intervention.
Ocular rosacea (ocular = of the eye): As suggested by the name, this form of rosacea affects the eyes or area near the eyes. Patients with ocular rosacea may experience a burning or itching sensation, increased sensitivity to light, and the sensation that something is in their eye. Ocular rosacea may affect up to 50 percent of patients who also have another form of the condition.
It is unclear what exactly causes rosacea. However, the condition is believed to be related to impairment of the immune, vascular, and nervous systems. In particular, an inadequate immune response is thought to play a critical role in the progression of the disease (2). Moreover, environmental and/or behavioral factors may trigger the development and flaring of the disease (1). Topical substances such as those used in cosmetics and over-the-counter creams (e.g., retinoids and corticosteroids); drugs and tobacco; and spicy food, chocolate, and dairy products may trigger the onset or progression of rosacea. Even such seemingly minor events as changes in the weather or temperature, a person's emotions or hormones, and exercise can play a part.
What Should I Do If I Suspect I Have Rosacea?
Because a number of other dermatological conditions can mimic the different types of rosacea, it is important to consult with a dermatologist if you suspect you have it. For example, the type of acne common in adolescents and adults causes similar lesions, from small, red tender bumps and pus-filled pimples to large solid, painful bumps under the skin. Other skin conditions such as contact dermatitis can also be mistaken for rosacea. Your doctor will be able to distinguish the difference based on the presence of other identifying features of rosacea, such as the frequency and persistence of flushing, the presence of spidery veins, and the age at which the symptoms appear in the individual patient (1).
As rosacea causes increased skin sensitivity, how well an individual patient tolerates the various therapies mentioned above will depend on many factors. While it is important to have as many treatment options as possible, your health care provider can help you find the most suitable therapy for your specific situation. Moreover, your provider will be able to provide counseling and resources for the emotional and psychological stress that accompanies this sometimes disfiguring disease. Our board-certified dermatologist, Dr. Dathan Hamann, and our caring and experienced staff at Saguaro Dermatology are here to address your individual concerns.
Saguaro Dermatology Reviews
Itaro Elaisa



"I totally recommend this place to anyone who's looking for a dermatologist who's professional, informative, respectful and very helpful. They are quick to solve your problems and get you home."

Wendy L.

I had an awesome experience with Dr Hamann and staff. I was very comfortable and i was able to have all my questions answered without feeling rushed. The staff was courteous and welcoming.
Kristin U



"Dr Dathan and the team were very helpful, kind and knowledgeable. Plus, there was no wait time so I was able to get back to work faster than expected. I would highly recommend."

Robert P.

Staff was friendly, & on time. office is super clean!! Doctor was awesome, felt like a family member taking care of me.

Sally S.



"Very friendly and professional. I had a great experience, Dr. Hamann was very good at answering my questions and concerns. I will certainly come back for another visit."

Amanda C.

Great doctor and friendly, professional staff. The doctor spends time listening and answering questions, something rare to find anymore. The office is beautiful and very clean. I love all the artwork with saguaros.

Kylin L.



"The office was recently renovated–it is a beautiful, clean, and calm environment. I would highly recommend this practice for anyone who is looking for a general dermatologist."

L

Dr. Hamann is very knowledgeable, nice, and professional. You can tell that he truly cares about his patients by the way he operates. He took the time to listen to all of my concerns then address them with good, well-informed answers.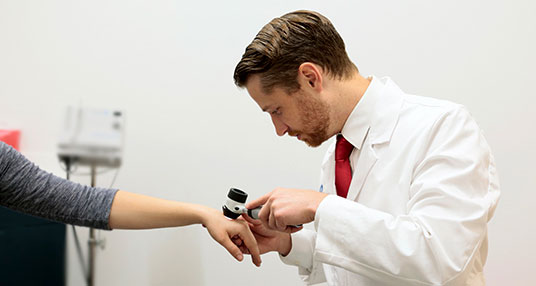 About Saguaro Dermatology
Our comprehensive dermatology clinic is dedicated to providing you with the highest quality of care, innovative practices, helpful resources and state-of-the-art technology to prevent and treat a multitude of skin disorders. Led by Carsten R. Hamann, MD, PhD, Dathan Hamann, MD, FAAD, and Millard Thaler, MD, Mohs Surgeon, our passionate team looks forward to serving you with respect and compassion.