It is natural to see gradual changes in the appearance of our skin as we get older. Some of these changes can be more prominent, such as wrinkles, while others are less noticeable, like fine lines. Wrinkles commonly appear on the face, back of the hands, neck, and the forearm. Wrinkles and other creases on the face could leave you unsatisfied about your appearance. Injectable dermal fillers provide a minimally invasive approach to reduce facial lines and wrinkles while restoring the volume and fullness of the skin. Every year in the United States, more than 3 million people choose to get dermal fillers. It is the second most frequent non-surgical cosmetic procedure performed in the USA (1).
The staff at Saguaro Dermatology are dedicated to providing you with the highest quality of care, innovative practices, helpful resources, and state-of-the-art technology to prevent and treat a multitude of skin disorders for patients in the Phoenix and Mesa area. Our physicians are experienced in injectable dermal filler treatment and are ready to help you achieve the look you desire.
How does your skin change with age?
Our skin is kept smooth by nicely packed collagen and elastin fibers in the dermis, a layer found just under the surface of the skin. In between these fibers, there is a chemical filler called hyaluronic acid which acts as a cushion and help to maintain young look of our skin.
As we age, the amount of collagen and elastin fibers along with hyaluronic acid decrease drastically. It will reduce the skin integrity and strength. With less filling and support under the surface of the skin, you will notice wrinkling and creases appearing on the skin. Premature development of facial lines and volume loss can also occur due to certain medical conditions.
Figure 1: Changes in skin composition as we age.
Where are dermal fillers used?
Dermal fillers are approved for specific uses in people aged 22 and older. Those uses include:
Correcting moderate-to-severe facial wrinkles and skin folds
Increase fullness of lips, cheeks, chin, under-eye hollows, jawline, and back of the hand
Restoring facial fat loss
Correcting acne scars
Figure 2: Areas of the face where cosmetic procedures including dermal fillers can be used
As with any medical procedure, there are risks involved with the use of dermal fillers. Most side effects occur shortly after injection and go away within a few weeks. Common risks include:
Itching, rash, and signs of inflammation such as redness, swelling, pain and tenderness.
Unintended injections into blood vessels- The most serious risk associated with dermal fillers is accidental injection of fillers into a blood vessel. Fillers that enter a blood vessel can cause skin necrosis (death of tissue), stroke, or blindness.
Having to remove the fillers- If you want to have fillers removed or reduced because of the side effects, you may need additional procedures to reduce the filler or surgery to remove it. In some cases, it may be difficult or even impossible to remove some filler material.
It is not advisable to buy or use injectable fillers that are sold directly to the public. Most of them are not FDA-approved and could be contaminated with chemicals and infectious organisms. The only FDA-approved dermal fillers are supplied by a prescription for injection by a licensed healthcare professional. We will discuss possible complications with you prior to your procedures.
How long do dermal fillers last?
Most of the FDA-approved dermal fillers are temporary, because they are made from material that the body eventually breaks down and absorbs. Therefore, in some cases the injection procedure may have to be repeated to maintain the desired effect. Depending on the filler type and the amount of filler used in the procedure, your healthcare provider can roughly estimate how long your dermal filler treatment would last.
Are dermal fillers right for me?
If you are unsatisfied with the appearance of your skin and not sure the dermal fillers are the right choice, make an appointment with us at Saguaro Dermatology today. We are happy to evaluate your skin condition and discuss the possible treatment options with you.
Final word on dermal fillers
Dermal fillers can smooth wrinkles and restore volume to provide a youthful look. People choose dermal fillers over cosmetic surgeries as the recovery time and the cost are relatively low. There are side effects associated with dermal filler treatments as with any other medical procedure. Do not hesitate to contact an experienced dermatologist to discuss your options. The team at Saguaro Dermatology has successfully treated individuals with different skin conditions. Our board-certified dermatologist, Dr. Dathan Hamann, and our caring and experienced staff are always ready to help you at Saguaro Dermatology, conveniently located at two campuses, Phoenix and Mesa, AZ.
Saguaro Dermatology Reviews
Itaro Elaisa

"I totally recommend this place to anyone who's looking for a dermatologist who's professional, informative, respectful and very helpful. They are quick to solve your problems and get you home."

Wendy L.

I had an awesome experience with Dr Hamann and staff. I was very comfortable and i was able to have all my questions answered without feeling rushed. The staff was courteous and welcoming.
Kristin U

"Dr Dathan and the team were very helpful, kind and knowledgeable. Plus, there was no wait time so I was able to get back to work faster than expected. I would highly recommend."

Robert P.

Staff was friendly, & on time. office is super clean!! Doctor was awesome, felt like a family member taking care of me.

Sally S.

"Very friendly and professional. I had a great experience, Dr. Hamann was very good at answering my questions and concerns. I will certainly come back for another visit."

Amanda C.

Great doctor and friendly, professional staff. The doctor spends time listening and answering questions, something rare to find anymore. The office is beautiful and very clean. I love all the artwork with saguaros.

Kylin L.

"The office was recently renovated–it is a beautiful, clean, and calm environment. I would highly recommend this practice for anyone who is looking for a general dermatologist."

L

Dr. Hamann is very knowledgeable, nice, and professional. You can tell that he truly cares about his patients by the way he operates. He took the time to listen to all of my concerns then address them with good, well-informed answers.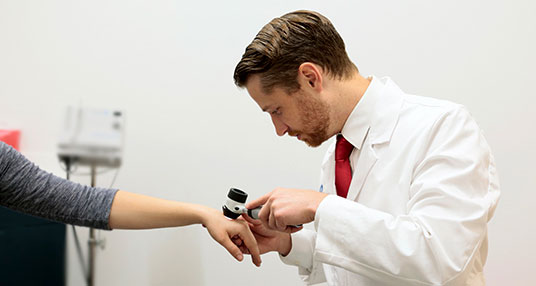 About Saguaro Dermatology
Our comprehensive dermatology clinic is dedicated to providing you with the highest quality of care, innovative practices, helpful resources and state-of-the-art technology to prevent and treat a multitude of skin disorders. Led by Carsten R. Hamann, MD, PhD, Dathan Hamann, MD, FAAD, and Millard Thaler, MD, Mohs Surgeon, our passionate team looks forward to serving you with respect and compassion.