Meet Dr. Carsten R. Hamann
Welcome our newest Dermatologist, Dr. Carsten R. Hamann. He joins Dr. Millard Thaler and Dr. Dathan Hamann in seeing patients in Mesa and in Phoenix, and brings his passion for dermatology to the family business (that's right, he and Dr. Dathan Hamann are brothers)!
Dr. Hamann completed his undergraduate degree at Calvin College and his medical degree at Loma Linda University. Upon graduation, he attended the University of Copenhagen in Denmark, where he received his PhD in Public Health and Epidemiology with a focus on risk factors and comorbidities of eczema.
Post-graduation, Dr. Hamann returned to the states to complete his Dermatology residency at the Dartmouth-Hitchcock Medical Center where he was the Chief Resident and the Assistant Chief Resident of Research. Dr. Carsten R. Hamann is a co-author of 3 textbook chapters on rubber allergy and metal allergy, and he has authored more than 57 peer-reviewed publications.
Dr. Carsten R. Hamann says:
"I am passionate about helping patients improve their skin health and addressing cosmetic interests. I enjoy both procedures and complex medical dermatology."
We did a quick interview with Dr. Carsten R. Hamann so that you could get to know him a little better:
Saguaro Dermatology: Since you left Phoenix in 2007,  you've added numerous professional degrees, married a beautiful wife, Kaylee, and now have three sons, Castor, Atlas and Regnar. We welcome you back to Phoenix! Having now lived in Michigan, California, Denmark, New Hampshire — what is something you loved about each of these locations?
Dr. Carsten R. Hamann: My wife Kaylee and I were in Michigan for four years where we enjoyed the tremendous Midwest hospitality. From Michigan, we lived in California where we took advantage of the terrific weather and lots of outdoor activities. After California, we moved to Denmark, where we lived in the very urban setting of Copenhagen. No California freeways there! We commuted via bikes and even running! We left Europe to head for New Hampshire where we've lived for the past three years: After our time in the busy city of Copenhagen, we loved the peaceful, rural setting, with the dense forests of New England. Such beautiful autumns with lots of pumpkins!
Saguaro Dermatology: What was the coldest day you experienced in Hanover, NH? How many snowmen did you build with your kids?
Dr. Carsten R. Hamann: Michigan, Denmark, and New Hampshire all had very chilly winters, although New Hampshire was probably both the chilliest and snowiest. We experienced several snowstorms with over 2 feet of snow in just over 24 hours!  There were many, many, many snowmen.
Saguaro Dermatology: And now, back to Phoenix. No snowmen here but we hear you and Kaylee enjoy time together in the kitchen…
Dr. Carsten R. Hamann: Absolutely! We both love to cook. Mexican food is a staple, especially during the week and  when we have time, we love to make our own tortillas. On weekends, with more time, we love to make our homemade lasagna, tamales and lamb rogan josh.  All are favorites.
Saguaro Dermatology: And to whom did you bequeath your ice scraper when you left Dartmouth?
Dr. Carsten R. Hamann: It's a Dartmouth Hospital tradition that when a West-Coaster leaves New Hampshire, they bequeath their ice scraper to the newest west coast arrival – who has yet to experience a true New England winter. We received our ice scraper from a Californian colleague returning home. And happily passed it along to the newest California dermatology resident who arrived just before we left last month.
Saguaro Dermatology: In spite of your limited "free time", with two little boys and a newborn, is there a hiking trail you are looking forward to exploring, now that you're back in Arizona?
Dr. Carsten R. Hamann: I'm looking forward to exploring the Phoenix Mountain Preserve close to our home. We already went out hiking last weekend!
Saguaro Dermatology Reviews
Itaro Elaisa



"I totally recommend this place to anyone who's looking for a dermatologist who's professional, informative, respectful and very helpful. They are quick to solve your problems and get you home."

Wendy L.

I had an awesome experience with Dr Hamann and staff. I was very comfortable and i was able to have all my questions answered without feeling rushed. The staff was courteous and welcoming.
Kristin U



"Dr Dathan and the team were very helpful, kind and knowledgeable. Plus, there was no wait time so I was able to get back to work faster than expected. I would highly recommend."

Robert P.

Staff was friendly, & on time. office is super clean!! Doctor was awesome, felt like a family member taking care of me.

Sally S.



"Very friendly and professional. I had a great experience, Dr. Hamann was very good at answering my questions and concerns. I will certainly come back for another visit."

Amanda C.

Great doctor and friendly, professional staff. The doctor spends time listening and answering questions, something rare to find anymore. The office is beautiful and very clean. I love all the artwork with saguaros.

Kylin L.



"The office was recently renovated–it is a beautiful, clean, and calm environment. I would highly recommend this practice for anyone who is looking for a general dermatologist."

L

Dr. Hamann is very knowledgeable, nice, and professional. You can tell that he truly cares about his patients by the way he operates. He took the time to listen to all of my concerns then address them with good, well-informed answers.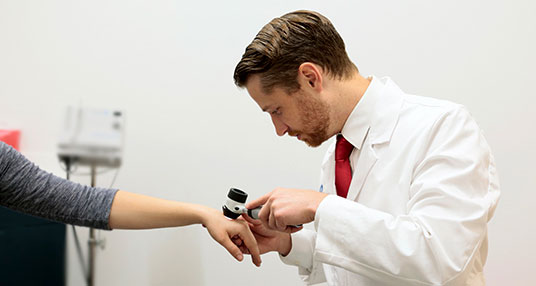 About Saguaro Dermatology
Our comprehensive dermatology clinic is dedicated to providing you with the highest quality of care, innovative practices, helpful resources and state-of-the-art technology to prevent and treat a multitude of skin disorders. Led by Carsten R. Hamann, MD, PhD, Dathan Hamann, MD, FAAD, and Millard Thaler, MD, Mohs Surgeon, our passionate team looks forward to serving you with respect and compassion.