Treating the eye region, can make a tremendous difference when it comes to preserving one's years. Chenopodium Quinoa Seed Extract, Caffeine and Butcher's Broom Extract are all naturally derived ingredients that work together to drastically improve the appearance of the eye area, giving you a more youthful, awake and vibrant appearance. This elegant formula has a unique texture that glides on effortlessly and helps to deflect light away to immediately give the appearance of a brighter eye area.
Helps reduce the appearance of thin skin around eye area
Strong antioxidant properties
When to Apply
Apply twice daily in the morning and evening to profoundly improve the appearance around the eye
Where to Apply
Apply small amounts to the undereye area for a more vibrant, youthful appearance.
How to Apply
Apply this revitalizing cream on the orbital eye area around wrinkles, dark circles, and puffiness. Discontinue use if redness or irritation occurs. Do not ingest.
Pro-Tip
For a complete revitalizing eye treatment, pair with Hyaluronic Quenching Serum.
Key Ingredients
Caffeine a powerful antioxidant that has a firming and tightening effect with the skin to help reduce the appearance of puffiness and fine lines.
Carnitine an amino acid that works similarly to caffeine for tightening and smoothing the skin as it helps to strengthen the thin skin around the orbital zone.
Butcher's Broom Extract a gentle botanical ingredient used for its anti-inflammatory activity to reduce the appearance of puffiness and discolorations. It also helps to protect elastin in the skin to keep the delicate eye area more youthful looking.
Quinoa SeedExtract a gentle botanical ingredient rich in vitamins which help to improve visible redness and discolorations around the eyes.
HyaluronicAcid a humectant that attracts moisture to increase hydration in the skin and lessen the appearance of fine lines instantly.
Full Ingredients
Water (Aqua), Carthamus Tinctorius Seed Oil, Cyclopentasiloxane, Cetearyl Alcohol, Capric/Caprylic Triglyceride, Isopropyl Myristate, Polysorbate 60, Dimethicone, Squalane, Sodium Hyaluronate, Carnitine, Caffeine, Ruscus Aculeatus Root Extract, Butylene Glycol, Chenopodium Quinoa Seed Extract, Phenoxyethanol, Ethylhexylglycerin, Citric Acid, Potassium Sorbate, Sodium Benzoate
Saguaro Dermatology Reviews
Itaro Elaisa



"I totally recommend this place to anyone who's looking for a dermatologist who's professional, informative, respectful and very helpful. They are quick to solve your problems and get you home."

Wendy L.

I had an awesome experience with Dr Hamann and staff. I was very comfortable and i was able to have all my questions answered without feeling rushed. The staff was courteous and welcoming.
Kristin U



"Dr Dathan and the team were very helpful, kind and knowledgeable. Plus, there was no wait time so I was able to get back to work faster than expected. I would highly recommend."

Robert P.

Staff was friendly, & on time. office is super clean!! Doctor was awesome, felt like a family member taking care of me.

Sally S.



"Very friendly and professional. I had a great experience, Dr. Hamann was very good at answering my questions and concerns. I will certainly come back for another visit."

Amanda C.

Great doctor and friendly, professional staff. The doctor spends time listening and answering questions, something rare to find anymore. The office is beautiful and very clean. I love all the artwork with saguaros.

Kylin L.



"The office was recently renovated–it is a beautiful, clean, and calm environment. I would highly recommend this practice for anyone who is looking for a general dermatologist."

L

Dr. Hamann is very knowledgeable, nice, and professional. You can tell that he truly cares about his patients by the way he operates. He took the time to listen to all of my concerns then address them with good, well-informed answers.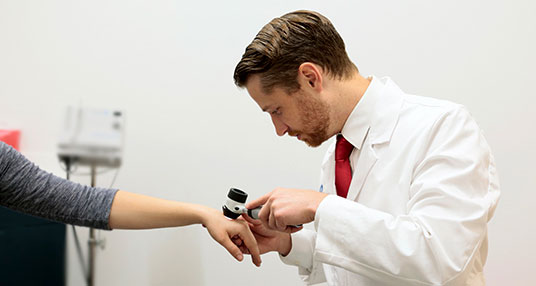 About Saguaro Dermatology
Our comprehensive dermatology clinic is dedicated to providing you with the highest quality of care, innovative practices, helpful resources and state-of-the-art technology to prevent and treat a multitude of skin disorders. Led by Carsten R. Hamann, MD, PhD, Dathan Hamann, MD, FAAD, and Millard Thaler, MD, Mohs Surgeon, our passionate team looks forward to serving you with respect and compassion.