Office Policies at Saguaro Dermatology
At Saguaro Dermatology, our goal is to exceed your expectations at every point in your experience with our team. That means providing a warm welcome, a listening ear, and the highest-quality of compassionate, customized care and transparency throughout the whole process. We encourage you to read all of our policies and information below for the best experience, and to contact our team at 480.681.3300 if you have any questions.
Appointment Policies and Information
Scheduling your appointment is quick and easy. Call us at 480.681.3300 or book an appointment online through our scheduling tool.
When you schedule an appointment with Saguaro Dermatology, we reserve that time to provide you with the highest quality of care. If you need to cancel an appointment, please contact our office at least 24 hours prior to your appointment. Failure to provide 24-hour notice will result in a no-show charge.
What to Bring to Your First Appointment
Please arrive 15 minutes early and bring your ID and your insurance card with you to your appointment. If you are a new patient, we'll provide you with a tablet at check in to fill out your new patient paperwork.
Once you have filled out your new patient forms, you will have access to your personal health information and medical records via our secure, online patient portal.
Saguaro Dermatology is dedicated to our patients which includes maintaining the highest level of confidentiality.
Payment is required for all services at the time they are rendered. All applicable co payments and/or deductibles will be collected at the time of service. We accept checks and credit cards. A fee of $25 will be assessed for returned checks.
If your account is more than 120 days past due, you will receive a letter stating that you have 15 days to pay your account in full. Please be aware that if a balance remains unpaid, we may refer your account to a collection agency and you, and your immediate family members may be discharged from the practice.
Saguaro Dermatology Reviews
Itaro Elaisa

"I totally recommend this place to anyone who's looking for a dermatologist who's professional, informative, respectful and very helpful. They are quick to solve your problems and get you home."

Wendy L.

I had an awesome experience with Dr Hamann and staff. I was very comfortable and i was able to have all my questions answered without feeling rushed. The staff was courteous and welcoming.
Kristin U

"Dr Dathan and the team were very helpful, kind and knowledgeable. Plus, there was no wait time so I was able to get back to work faster than expected. I would highly recommend."

Robert P.

Staff was friendly, & on time. office is super clean!! Doctor was awesome, felt like a family member taking care of me.

Sally S.

"Very friendly and professional. I had a great experience, Dr. Hamann was very good at answering my questions and concerns. I will certainly come back for another visit."

Amanda C.

Great doctor and friendly, professional staff. The doctor spends time listening and answering questions, something rare to find anymore. The office is beautiful and very clean. I love all the artwork with saguaros.

Kylin L.

"The office was recently renovated–it is a beautiful, clean, and calm environment. I would highly recommend this practice for anyone who is looking for a general dermatologist."

L

Dr. Hamann is very knowledgeable, nice, and professional. You can tell that he truly cares about his patients by the way he operates. He took the time to listen to all of my concerns then address them with good, well-informed answers.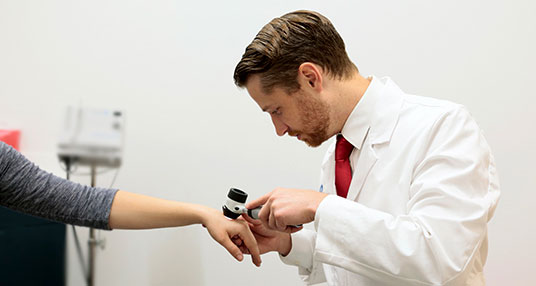 About Saguaro Dermatology
Our comprehensive dermatology clinic is dedicated to providing you with the highest quality of care, innovative practices, helpful resources and state-of-the-art technology to prevent and treat a multitude of skin disorders. Led by Carsten R. Hamann, MD, PhD, Dathan Hamann, MD, FAAD, and Millard Thaler, MD, Mohs Surgeon, our passionate team looks forward to serving you with respect and compassion.