Request Your Skin Cancer Screening Today!
Like other forms of cancer, skin cancer is an abnormal growth of cells. It usually develops on skin exposed to the sun, such as the face, nose, and lips, and it affects people who spend a lot of time outdoors in sunny climates without protective clothing or sunscreen. Fortunately, a skin cancer screening test can help identify signs of skin cancer in its earliest stages when it is easiest to treat.
What Is A Skin Cancer Screening Test?
A skin cancer screening test is the first line of prevention against or treatment for skin cancer. In fact, the Skin Cancer Foundation recommends that all adults have a skin cancer screening at least once a year and more frequently for those who have had skin cancer before or are at higher risk of getting skin cancer1. Moreover, while self-examination is important, in a recent study nearly 52% of melanoma cases diagnosed were not identified as suspicious by the patient and, thus, were only detected through screening2. While many physicians may offer skin cancer screenings, dermatologists are specially trained to spot skin cancers or precancerous changes in the skin.
During a routine skin cancer screening, the dermatologist will examine every area of skin on your body. He or she may use an instrument called a dermatoscope to look more closely at moles or other markings on your skin. If a spot looks suspicious, the dermatologist will ask you how long it has been there; if you have noticed any changes over time; and if it itches, causes pain, or bothers you in some way. A skin cancer screening will not provide a diagnosis, but if skin cancer is suspected, the dermatologist may take a tissue sample (biopsy) for analysis in a lab. If results from the skin cancer screening show that the sample is malignant (cancerous), your doctor will determine which kind of treatment is most appropriate. Remember, early detection and treatment are critical in preventing the spread of cancer to other parts of your body.
The primary risk factor for skin cancer is exposure to the ultraviolet (UV) rays of the sun. This puts workers in certain occupations at higher risk for the disease: for example, outdoor workers such as fishermen, gardeners, and farmers have the highest risk of lip cancer. Moreover, overexposure during childhood, resulting in frequent and/or severe sunburns, can cause a form of skin cancer known as melanoma later in life. Other causes of skin cancer include prolonged exposure to radiation, such as exposure through repeated X-rays; occupational exposure to chemicals; and lifestyle choices such as use of tanning beds and smoking, the latter of which has been shown to decrease survival rates of melanoma patients.
What Are The Types Of Skin Cancer?
The three main types of skin cancer are basal cell carcinoma (BCC), squamous cell carcinoma (SCC), and melanoma. BCC and SCC, described as nonmelanoma skin cancers, make up most skin cancers and are unlikely to spread to other parts of the body. Malignant melanoma, however, is highly aggressive and known to spread to other parts of the body. It can be fatal if not treated early.
What Are The Symptoms Or Signs Of Skin Cancer?
Skin cancers start as precancerous changes or lesions on the skin. These lesions include small crusty or scaly patches known as actinic keratoses and abnormal moles. Actinic keratoses commonly appear on the sun-damaged skin of people over 40 years of age. They are most common on the head, neck, and back of the hands but can also appear on the face, lips, ears, scalp, and forearms. They may be white, rough, and wart-like in appearance, or raised, pink, and scabby looking. Abnormal or atypical moles can be distinguished from normal moles by asymmetry of pigmentation (half of the mole is one color and half is another color), irregular shape, variations in color (pink, red, tan, brown), size greater than that of a pencil eraser (6 millimeters), and changes in size, color, or shape over time. Both actinic keratoses and atypical moles can be signs of potential skin cancer and should be examined by a dermatologist.
What Is The Treatment For Skin Cancer?
There are various treatments for skin cancer:
How Much Does Skin Cancer Treatment Cost?
Saguaro Dermatology Reviews
Itaro Elaisa

"I totally recommend this place to anyone who's looking for a dermatologist who's professional, informative, respectful and very helpful. They are quick to solve your problems and get you home."

Wendy L.

I had an awesome experience with Dr Hamann and staff. I was very comfortable and i was able to have all my questions answered without feeling rushed. The staff was courteous and welcoming.
Kristin U

"Dr Dathan and the team were very helpful, kind and knowledgeable. Plus, there was no wait time so I was able to get back to work faster than expected. I would highly recommend."

Robert P.

Staff was friendly, & on time. office is super clean!! Doctor was awesome, felt like a family member taking care of me.

Sally S.

"Very friendly and professional. I had a great experience, Dr. Hamann was very good at answering my questions and concerns. I will certainly come back for another visit."

Amanda C.

Great doctor and friendly, professional staff. The doctor spends time listening and answering questions, something rare to find anymore. The office is beautiful and very clean. I love all the artwork with saguaros.

Kylin L.

"The office was recently renovated–it is a beautiful, clean, and calm environment. I would highly recommend this practice for anyone who is looking for a general dermatologist."

L

Dr. Hamann is very knowledgeable, nice, and professional. You can tell that he truly cares about his patients by the way he operates. He took the time to listen to all of my concerns then address them with good, well-informed answers.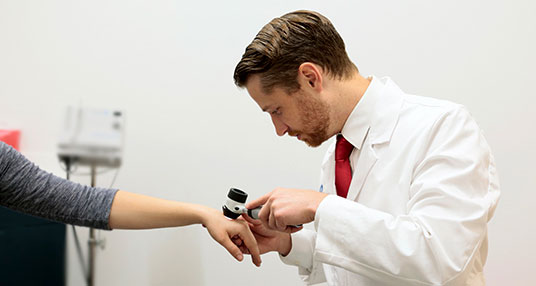 About Saguaro Dermatology
Our comprehensive dermatology clinic is dedicated to providing you with the highest quality of care, innovative practices, helpful resources and state-of-the-art technology to prevent and treat a multitude of skin disorders. Led by Carsten R. Hamann, MD, PhD, Dathan Hamann, MD, FAAD, and Millard Thaler, MD, Mohs Surgeon, our passionate team looks forward to serving you with respect and compassion.