What You Need to Know About Patch Testing & Patch Testing Costs
Patch testing is the only medical test that can identify a delayed allergy. Unlike "immediate" allergies like you hear about to peanuts, pollens, and dog dander, "delayed" allergies to things like perfumes or other ingredients in cosmetics can cause a form of eczema over time. A patch test may include between 36 to 85 allergens. In some complex cases, expect over 100 allergens. In addition to paying for 2 or 3 office visits, the patch test allergens often cost $9. An average test may cost around $1000 but often patients pay much less out of pocket. Experts agree that for many patients with out of control eczema and rashes, patch testing is very likely to save you time, money, and trouble in the long-run.
The allergic form of eczema is often a life-long disease. While this test seems very expensive, it is much less than the total costs of monthly prescriptions, specialist visits several times yearly, and loss of work or vacation time. Without a proper diagnosis, patients may suffer needlessly or even pay for unnecessary treatments for decades. The other problem is that patients can become allergic to many of the creams used to treat eczema. If you have eczema that can't be controlled, you deserve to know if you could be allergic to the ingredients in your prescription and over-the-counter eczema creams. The team at Saguaro Dermatology invite you schedule an appointment to learn more. And being centrally located in Phoenix, you will experience convenience and efficient care.
Q & A: Prior to undergoing patch testing, there are several questions you should ask your physician and/or your insurance provider.
Saguaro Dermatology Reviews
Itaro Elaisa

"I totally recommend this place to anyone who's looking for a dermatologist who's professional, informative, respectful and very helpful. They are quick to solve your problems and get you home."

Wendy L.

I had an awesome experience with Dr Hamann and staff. I was very comfortable and i was able to have all my questions answered without feeling rushed. The staff was courteous and welcoming.
Kristin U

"Dr Dathan and the team were very helpful, kind and knowledgeable. Plus, there was no wait time so I was able to get back to work faster than expected. I would highly recommend."

Robert P.

Staff was friendly, & on time. office is super clean!! Doctor was awesome, felt like a family member taking care of me.

Sally S.

"Very friendly and professional. I had a great experience, Dr. Hamann was very good at answering my questions and concerns. I will certainly come back for another visit."

Amanda C.

Great doctor and friendly, professional staff. The doctor spends time listening and answering questions, something rare to find anymore. The office is beautiful and very clean. I love all the artwork with saguaros.

Kylin L.

"The office was recently renovated–it is a beautiful, clean, and calm environment. I would highly recommend this practice for anyone who is looking for a general dermatologist."

L

Dr. Hamann is very knowledgeable, nice, and professional. You can tell that he truly cares about his patients by the way he operates. He took the time to listen to all of my concerns then address them with good, well-informed answers.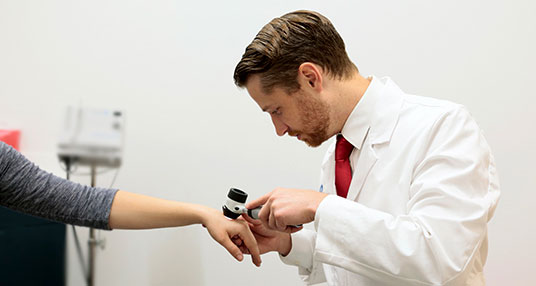 About Saguaro Dermatology
Our comprehensive dermatology clinic is dedicated to providing you with the highest quality of care, innovative practices, helpful resources and state-of-the-art technology to prevent and treat a multitude of skin disorders. Led by Carsten R. Hamann, MD, PhD, Dathan Hamann, MD, FAAD, and Millard Thaler, MD, Mohs Surgeon, our passionate team looks forward to serving you with respect and compassion.