The health and safety of our patients and our staff are always our first priority.
We will be available to serve you and your family's skin care needs on Monday – Friday from 8:00AM – 5:00PM.
If you have an appointment scheduled outside of these hours, our staff will be calling to find a time that works for you. We are proud to serve the Phoenix community's skin care needs, and are committed to your health. For this reason, in addition to our normal practice of high level infection control by following all procedures and recommendations by the Center for Disease Control and Prevention, we are:
Asking staff and patients who exhibit any symptoms of COVID-19 to stay home.
Continuing to regularly wash our hands and disinfect all areas of our office including door handles, rooms, computers, etc. multiple times a day.⁠⠀
Asking all patients to wash their hands before entering exam rooms.
Actively monitoring all public health recommendations, communications, and statistics from the CDC, WHO, AAD, and the Arizona Department of Health Services.
If you have any questions at all, or would like to schedule an appointment, please do not hesitate to call us at 480-681-3300. Stay safe.
Sincerely,
The Saguaro Dermatology Team
Saguaro Dermatology Reviews
Itaro Elaisa

"I totally recommend this place to anyone who's looking for a dermatologist who's professional, informative, respectful and very helpful. They are quick to solve your problems and get you home. "
Kristin Ulrich-Uhles

"Dr Dathan and the team were very helpful, kind and knowledgeable. Plus, there was no wait time so I was able to get back to work faster than expected. I would highly recommend."

Sally Shepstead

"Very friendly and professional. I had a great experience, Dr. Hamann was very good at answering my questions and concerns. I will certainly come back for another visit."

Kylin Chen

"The office was recently renovated--it is a beautiful, clean, and calm environment. I would highly recommend this practice for anyone who is looking for a general dermatologist."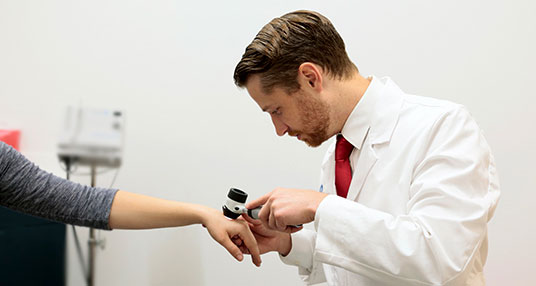 About Saguaro Dermatology
Our comprehensive dermatology clinic is dedicated to providing you with the highest quality of care, innovative practices, helpful resources and state-of-the-art technology to prevent and treat a multitude of skin disorders. Led by Medical Director, Dathan Hamann, MD, FAAD, our passionate team looks forward to serving you with respect and compassion.