$10 OFF a Spa Service
Mention Offer Code Birthday When You Schedule
$10 OFF a Spa Service
Mention Offer Code Birthday When You Schedule
Book Your Appointment Today
Book Your Appointment Today
45 Minute Express Dermaplane
$70.00
Does your skin need a quick pick me up? Our express Dermaplane Facial aims to brighten and smooth skin fast so that you can continue on with your busy day!
75 Minute Exfoliate Dermaplane
$130.00
Brighten and smooth your skin and remove fine lines with a dermaplane facial. Dermaplaning uses an exfoliating blade to skim off dead skin cells, leaving new, bright skin cells that last for up to 3 weeks.
This advanced treatment is perfect for renewing dull, aged and damaged skin. Chemical peels trigger the skin's natural healing response and accelerate cell renewal to brighten skin, even out fine lines, and improve overall skin tone and texture. The peels used at Saguaro Dermatology are safe, effective and work with the skin's natural chemistry to offer the best possible results.
Brighten and tone your skin with a Microdermabrasion! Microdermabrasion is a non-invasive procedure that uses a sterile diamond tip head to renew the overall skin tone and texture by removing the very outer layer of the skin.
30 Minute Express Facial
$70.00
Your beauty quick fix! This facial service includes a deep facial cleanse followed by a facial scrub and a customized treatment mask. In just 30 minutes, your skin will be revitalized and nourished— leaving you ready to take on the rest of your day.
60 Minute Customized Facial
$100.00
A facial made just for you! This full-service treatment is customized to your specific skin type and skin care goals. The ultimate blend of skincare and relaxation, it includes a deep facial cleanse, customized exfoliation, treatment mask, and massage! Not only will your skin feel and look its best, but you will also feel relaxed and rejuvenated.
Microneedling is a minimally invasive procedure that uses small needles to prick the skin in order to generate new collagen and tissues that reduces fine lines and results in smoother, firmer, and more toned skin. It is most commonly done on the face or neck.
Saguaro Dermatology Reviews
Itaro Elaisa



"I totally recommend this place to anyone who's looking for a dermatologist who's professional, informative, respectful and very helpful. They are quick to solve your problems and get you home."

Wendy L.

I had an awesome experience with Dr Hamann and staff. I was very comfortable and i was able to have all my questions answered without feeling rushed. The staff was courteous and welcoming.
Kristin U



"Dr Dathan and the team were very helpful, kind and knowledgeable. Plus, there was no wait time so I was able to get back to work faster than expected. I would highly recommend."

Robert P.

Staff was friendly, & on time. office is super clean!! Doctor was awesome, felt like a family member taking care of me.

Sally S.



"Very friendly and professional. I had a great experience, Dr. Hamann was very good at answering my questions and concerns. I will certainly come back for another visit."

Amanda C.

Great doctor and friendly, professional staff. The doctor spends time listening and answering questions, something rare to find anymore. The office is beautiful and very clean. I love all the artwork with saguaros.

Kylin L.



"The office was recently renovated–it is a beautiful, clean, and calm environment. I would highly recommend this practice for anyone who is looking for a general dermatologist."

L

Dr. Hamann is very knowledgeable, nice, and professional. You can tell that he truly cares about his patients by the way he operates. He took the time to listen to all of my concerns then address them with good, well-informed answers.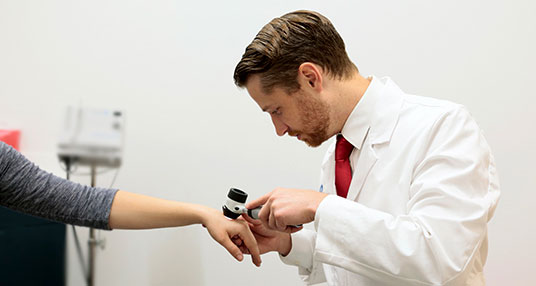 About Saguaro Dermatology
Our comprehensive dermatology clinic is dedicated to providing you with the highest quality of care, innovative practices, helpful resources and state-of-the-art technology to prevent and treat a multitude of skin disorders. Led by Carsten R. Hamann, MD, PhD, Dathan Hamann, MD, FAAD, and Millard Thaler, MD, Mohs Surgeon, our passionate team looks forward to serving you with respect and compassion.